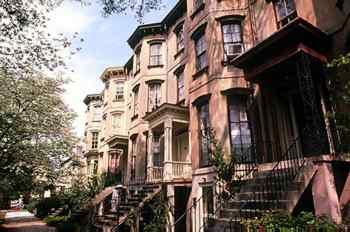 Historic District: Squares, Homes, Museums, and Churches
[Fig. 7] The most defining feature of Savannah is its eighteenth century design, following an extraordinary urban plan created in 1733 by the founder of Georgia, Gen. James Edward Oglethorpe. Today, visitors should stroll through Savannah's 24 historic squares, some of which were paced off by Oglethorpe himself, and see that his pattern is still in use. The sun-dappled squares, called Savannah's jewels, serve as tranquil city parks, beautifully landscaped with Live Oaks, magnolias, azaleas, oleanders, and crape myrtle. Located around these squares are the majority of Savannah's historic inns and museums, as well as beautiful churches and parks (see Historic Parks and Cemeteries).
Oglethorpe originally divided the city into four wards. In the center of the wards were public squares, and on the east-west axis of the squares, four large trust lots were reserved for public buildings such as churches or markets. On each side of the north-south axis of the squares, Oglethorpe marked off 40, 60- by -90-foot residence lots, in two rows separated by alleys, said to accommodate the number of families that first arrived on the Anne.
Whitaker Street was the centrally located road, dividing four symmetrically placed squares—Ellis (now a parking garage), Johnson, Telfair, and Wright. By 1839, the city had grown to 18 squares and shifted slightly eastward, with Bull Street, and a series of squares, being the spine of the city. As the city grew into the 1850s, the final set of squares was marked off using Oglethorpe's pattern, reaching all the way to Gaston Street and the centrally placed Forsyth Park. South of Gaston Street, the system of squares was abandoned, allowing Forsyth Park to serve as that area's central park.
One confusing feature of Savannah is that the squares and monuments don't match. The Oglethorpe Monument is in Chippewa rather than Oglethorpe Square, the Pulaski Monument is in Monterey rather than Pulaski Square, and the Greene Monument is in Johnson instead of Greene Square. (See Fig. 7 for location of the following squares and attractions.)
Squares
Calhoun Square. Laid out in 1851, this shady square was named for the South Carolina Southern-rights firebrand John C. Calhoun. On the square is Wesley Monumental United Methodist Church, whose congregation organized in 1875. The Gothic-revival church was built in 1890 as a memorial to John and Charles Wesley, founders of the Methodist movement, through national fund-raising.
Chatham Square. Named in 1851 after William Pitt, the Earl of Chatham, this square was laid out in 1847. Ralph Mark Gilbert Civil Rights Museum. 460 Martin Luther King Jr. Boulevard. Opened in 1996, this museum features 15 exhibits showcasing Savannah's African-American history from the Emancipation Proclamation to the Civil Rights movement. Located three blocks west of Chatham Square. Open Monday through Saturday 9–5, Sunday 1–5. A small fee charged. 231-8900.
Chippewa Square. A beautiful bronze figure by Daniel Chester French, the sculptor of the Lincoln Memorial, immortalizes General James Edward Oglethorpe, who looms over the square named for the American victory in the Battle of Chippewa during the War of 1812. This is where Forrest Gump's bench was placed, at Bull and Hull streets, during the filming of that popular movie. Two blocks north of the square is Independent Presbyterian Church, which was founded in 1755. The current church is an 1891 replica of the 1819 church, and is considered a notable example of American church architecture. Woodrow Wilson married Ellen Axon in a room in the manse in 1885.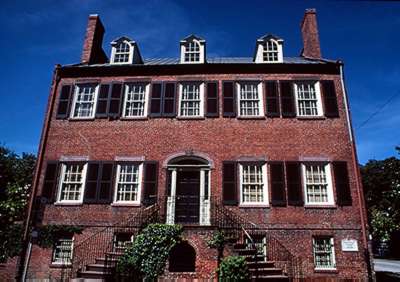 Columbia Square. This marks the eastern limit of Savannah when it was a walled city between 1757-90. Bethesda gate, one of six city gates, was on this square. Today it is a tranquil spot away from the busy commercial district. The fountain in the center is from Wormsloe. Located on the square is Isaiah Davenport House Museum, perhaps the most significant structure in Savannah, as it launched the historic preservation effort that revived the city. Isaiah Davenport House Museum. 324 E. State Street. Anyone who loves Savannah should pay tribute to this museum. Threatened with demolition in the 1950s, this classic Federal-style home became a catalyst for the formation of the Historic Savannah Foundation, a group of seven influential women who stayed the wrecker's hand less than 24 hours before demolition was to begin. Built in 1820, this fine home features Hepplewhite, Chippendale, and Sheraton furnishings. Open daily 10–4. A small fee is charged. (912) 236-8097.
Crawford Square. Laid out in 1841 and named for former Georgia Governor and Senator William Harris Crawford, the centerpiece today is a busy basketball court. Crawford ran for U.S. president in 1824 but finished third to winner John Quincy Adams and second-place finisher Andrew Jackson.
Elbert Square. Located on Montgomery Street between Hull and Perry streets, this square was created and named in 1801 for Governor Henry Ellis. One of Savannah's obliterated squares, it is covered with pavement and open to through traffic.
Ellis Square. Located on Barnard Street between Bryan and Congress streets, this is one of the original four squares laid out by Oglethorpe in 1733. It is named for Henry Ellis, who in 1758 became the second royal governor of Georgia. It was the site of Old City Market, a covered market built in 1870 that was torn down and replaced by a parking garage in 1954.
Franklin Square. Laid out in 1790 and named for Benjamin Franklin, the famous American statesman and agent for the Colony of Georgia from 1768–1775. First African Baptist Church. 23 Montgomery Street. This is reportedly the first brick building built by African-Americans for their own use, erected in 1859. Church membership was derived from the oldest black congregation in the U.S. (1777) from nearby Brampton Plantation. Runaway slaves were hidden under the sanctuary floor during the Civil War. Open daily 10–5. Donations accepted. (912) 233-2244. Ships of the Sea Museum/Scarbrough House. 41 Martin Luther King Jr. Boulevard. The Scarbrough House, designed in the Greek Revival style by William Jay, was built in 1819 for Savannah cotton merchant Prince William Scarbrough, who was a major investor in the steamship Savannah, the first to cross the Atlantic. The restored home is one of Savannah's top 10 historic buildings. Inside the house is the Ships of the Sea Museum, which highlights Savannah's and the country's maritime history with scale models of ships. Open Tuesday to Sunday, 10–5. A small fee is charged. (912) 232-1511.
Greene Square. Named in honor of American Revolutionary War General Nathanael Greene, who had a Savannah River plantation at Mulberry Grove.
Johnson Square. The first square laid out by Oglethorpe in 1733, it was the center of life in the earliest days of the colony. It is named for Robert Johnson, the friend of Oglethorpe and governor of South Carolina who helped the Georgia colony. In the center is the monument and grave of General Nathanael Greene. The original drawing of Savannah called for a church on the lot where Christ Episcopal Church now stands. Savannah's original settlers were members of the Church of England, and their church in the new colony was Christ Church, the first church established in the new colony. John Wesley preached at this location from 1736–1737. The influence of the church was such that the parish was called Christ Church Parish. Its ministers were loyalists to England, so after the Revolutionary War, the church fell into decline. The church reformed as Christ Episcopal Church, and the current structure dates back to 1838.
Lafayette Square. Laid out in 1837, and named for the Marquis de Lafayette, who visited Savannah in 1825 and spoke to the crowd from the balcony of the Owens-Thomas house located on Oglethorpe Square. On this square are the Andrew Low House, Hamilton Turner Mansion and Museum, and a few steps west, the Flannery O'Connor House. She was a member of Cathedral of St. John the Baptist, the oldest Roman Catholic church in Georgia, and a glorious example of French-Gothic church design. In the early days of the colony, Catholicism was banned and Irish Catholics entered the colony as indentured servants. Prejudices against Catholics changed during the American Revolution when the French allied with American Patriots against England. Today, the St. Patrick's Day celebration in Savannah is the second largest in the country. Andrew Low House. 329 Abercorn St. This home was built in 1848 by one of Savannah's wealthier merchants, Andrew Low. His son William later owned the house, and he married Juliette Gordon, who founded the Girl Scouts here on March 12, 1912. Robert E. Lee and William Thackeray dined here. Closed Thursdays. Open 10:30–4. A small fee is charged. (912) 233-6854. Hamilton-Turner Mansion and Museum. 330 Abercorn. A Second-Empire styled mansion built circa 1873, this home belongs to Nancy Hillis, the "Mandy" of Midnight in the Garden of Good and Evil, who sometimes leads tours. Open daily 10–4. A small fee is charged. (912) 233-4800. Flannery O'Connor House. 207 E. Charlton Street. The birthplace and childhood home of one of America's greatest writers today serves as a shrine to her life and work. Open Saturdays and Sundays 1–4. Donation requested. (912) 233-6014.
Liberty Square. Montgomery Street between State and York streets. One of Savannah's effaced squares, it was laid out in May 1799 and named to honor the "Sons of Liberty" who fought the British during the Revolutionary War. Now paved over and open to through traffic.
Madison Square. Named for the fourth U.S. President James Madison, the 15.5-foot bronze statue in the center commemorates Sgt. William Jasper, who fell in the Siege of Savannah in 1779 as he planted the colors on a British entrenchment. A granite marker cites the southernmost line in the British defense during the American Revolution. Sherman stayed in the Green-Meldrim house, which is open to tours. Green-Meldrim House. 14 W. Macon Street. General Sherman's Civil War headquarters, this mansion is an excellent example of neo-Gothic architecture and one of the most expensive mansions ever built in Savannah. Designed by John Norris and built in 1853, today it serves as the parish house for St. John's Episcopal Church, but thankfully it is open to tours. From here, Sherman sent his famous message to President Lincoln, reprinted in many newspapers of the day: "I beg to present to you as a Christmas gift, the City of Savannah with 140 heavy guns and plenty of ammunition and also about 25,000 bales of cotton." After the war, Sherman returned to Savannah and stayed again at Green's home. Open Tuesday and Thursday through Saturday 10–4. A small fee is charged. (912) 233-3845.
Monterey Square. Some consider this square to be Savannah's loveliest. The Mercer House, the setting for the murder featured in Midnight in the Garden of Good and Evil, is located on this square. Named for the capture of Monterey, Mexico in 1846 by Gen. Zachary Taylor during the Mexican War, the monument in the center commemorates Count Casimir Pulaski, a Polish nobleman mortally wounded in the Siege of Savannah in 1779. He was the highest ranking foreign officer killed in the American Revolution. Built in 1878, Temple Mickve Israel serves the third oldest Jewish congregation in America, established in 1733. The temple houses the oldest Torah in America, and a museum is home to many historically valuable books, along with letters from Presidents Washington, Jefferson, and Madison to the congregation. Mercer House. 429 Bull Street. Designed by John S. Norris before the Civil War, it wasn't finished until 1871, after the bloody conflict. Built for Gen. Hugh W. Mercer, the home was abandoned in the 1960s, and later restored in the 1970s and furnished with antiques by Jim Williams, who was featured in the book Midnight in the Garden of Good and Evil. In this house, Williams shot his lover, Danny Hansford. In 1990, Williams died near the spot where Hansford was killed. Mercer is a relative of songwriter Johnny Mercer. Not open to tours.
Oglethorpe Square. Laid out in 1742 and named for Georgia's founder, this is a popular spot to take a shady break or picnic lunch. Owens-Thomas House Museum. 124 Abercorn Street. Built in 1819 and designed by William Jay, this house may be the finest example of Regency architecture in the U.S. Marquis de Lafayette spoke for two hours from the balcony. Closed Monday. Open 10–4. A small fee is charged. (912) 233-9743.
Orleans Square. This square was laid out in 1815 to honor the heroes of the Battle of New Orleans during the War of 1812. The fountain in the center was dedicated in 1989 by Savannah's German Societies to commemorate the contributions to Savannah of early German immigrants.
Pulaski Square. This square, featuring some of Savannah's most beautiful Live Oaks, is named for the Polish nobleman who died during the Siege of Savannah in 1779.
Reynolds Square. Originally called Lower New Square, this square was home to the Filature, where silk was woven from silkworm cocoons during the colony's failed experiment to establish the silk industry in Georgia. The square is named for Captain John Reynolds, governor of Georgia in 1754, and the statue of John Wesley was erected in 1969.
Telfair Square. One of the original four squares when Savannah was laid out in 1733, it was originally called St. James, then renamed Telfair in 1883 in honor of three-time governor Edward Telfair. It also has a Girl Scout tribute. Trinity United Methodist Church, built circa 1848, resembles the design of Wesley Chapel of London, and is the oldest Methodist Church in Savannah. Telfair Academy of Arts and Sciences. 121 Barnard Street. The former home of Alexander Telfair is a museum itself, built in 1819 and designed by William Jay. Inside is an outstanding permanent collection of impressionist paintings and classic sculptures. Closed Monday. Open Tuesday through Saturday 10–5. Sunday 2–5. A small fee is charged. (912) 232-1177.
Troup Square. This square is named for Governor George Michael Troup and was laid out in 1851. In the center is Armillary Sphere, an astronomical centerpiece made of iron that is supported by small metal turtles.
Warren Square. Laid out in 1791, this square was named for Revolutionary War hero General Joseph Warren, president of the Third Provincial Congress.
Washington Square. Formerly called Eastern Commons, this square once bordered the original Trustees' Garden, where colonists grew a variety of experimental crops. It was established in 1790 and named for the first U.S. President.
Whitefield Square. This square was laid out in 1851 and named for George Whitefield, early Savannah minister, nationally famous preacher, and founder of Bethesda Orphanage. The white gazebo has hosted countless marriages.
Wright Square. A large boulder in this square marks the grave of Tomochichi, the mico of the Yamacraws who helped Oglethorpe settle the Georgia coast. One of Savannah's original four squares, it was first called Percival Square, then later renamed for Sir James Wright, the third and last colonial governor. A monument honors William Washington Gordon, the early mayor of Savannah who established the Central of Georgia Railroad. The current Lutheran Church of the Ascension was constructed from 1843 to 1878 by the congregation organized by the Salzburgers in 1741. The original church of 1772 burned. Juliette Gordon Low Birthplace/Girl Scout National Center. 142 Bull Street. Savannah's first National Historic Landmark is the 1860 birthplace of the founder of the Girl Scouts, who own and operate the museum. Built in 1820, the design is attributed to William Jay. The home is furnished with antiques from the period of Juliette Gordon's youth in the 1870s and 1880s. A mecca for Girl Scouts, this the reason you see so many of the uniformed pilgrims in Savannah. Closed Wednesday. Open Monday through Tuesday and Thursday through Saturday 10–4. Sunday 12:30–4:30. A small fee is charged. (912) 233-4501.
Lodging in Historic District
The Historic District and the Victorian District offer more than three dozen options for historic lodging. Here are some of the more popular choices. Ballastone Inn. 14 E. Oglethorpe Avenue. Located near Chippewa Square, this 1838 antebellum mansion once served as a bordello. Today, the beautiful inn features rooms and suites with private baths and period antiques. Most have fireplaces and guests can exercise for free at First City Club. Moderate to expensive. (800) 822-4553. Bed & Breakfast Inn. 117 W. Gordon Street. Built in 1853, this B&B is located a few blocks away from Forsyth Park and is an excellent choice for visitors on a budget. Some guest rooms have shared baths. Inexpensive to moderate. (912) 238-0518. Eliza Thompson House. 5 W. Jones Street. Two blocks north of Monterey Square is this 1847 townhouse, which has been one of the most popular B&Bs in Savannah. Moderate to expensive. (800) 348-9378. Foley House Inn. 14 W. Hull Street. Located on Chippewa Square, this nineteenth century Victorian townhouse is full of period antiques and reproductions that create a sumptuous Savannah ambiance. Five of the 19 rooms have whirlpool tubs. Moderate to expensive. (800) 647-3708. The Kehoe House. 123 Habersham Street. One of the most luxurious B&Bs in Savannah, if not the South, this magnificent Victorian mansion overlooks Columbia Square in the heart of the historic district. Expensive. (800) 820-1020. The Gastonian. 220 E. Gaston Street. A beautifully furnished, 1868 inn features 16 rooms furnished with Georgian and Regency antiques and working fireplaces, and most have whirlpool tubs. Moderate to expensive. (800) 322-6603.
Restaurants in Historic District
Clary's Café. Corner of Jones and Abercorn. Profiled in Midnight in the Garden of Good and Evil, this neighborhood eatery on Lafayette Square not only has good food but also loads of character. Open 7 days a week for breakfast, lunch, and dinner. Inexpensive. (912) 233-0402.
Elizabeth on 37th. 105 E. 37th Street. Sparking a new appreciation of Southern culinary arts is Elizabeth's, one of the most famous restaurants in the South. Chef Elizabeth Terry's original creations using regional seafood, meats, and ingredients are delicious discoveries for the fine diner. The restaurant is located in an elegant, turn-of-the-century mansion in the Victorian District, which adds to the experience. Open Monday through Saturday. Reservations recommended. Dinner. Expensive. (912) 236-5547.
Il Pasticcio. 2 E. Broughton Street. An excellent, visionary Italian restaurant that has become part of Savannah's preservation history. When Savannahians took their business to malls and shopping centers located farther out in the suburbs, Broughton, the former commercial district of department stores and dress shops, underwent serious decline. By 1993 Broughton Street had become a mostly deserted strip of boarded up shops when the Venetico family purchased the former Lerner Shop and designed a beautiful new restaurant. Il Pasticcio won many loyal followers for its Italian cuisine that some believe is the best in Savannah, if not the Georgia coast. And Broughton Street is experiencing a resurgence. Open 7 days a week. Dinner. Moderate. 231-8888.
Mrs. Wilkes Boarding House. 107 W. Jones. Crowds line up down the sidewalk to wait for a table at this family-style sit-down Southern restaurant, featuring fresh vegetables and meats. The fried chicken is legendary. Open Monday through Friday for breakfast 8–9, and lunch 11:30–3. No credit cards. Inexpensive. (912) 232-5997.
Olde Pink House. 23 Abercorn Street. Built in 1771, this is one of the oldest buildings in Savannah, which today is an elegant restaurant on Reynolds Square. Heart of pine floors, eighteenth century antiques, and an excellent wine cellar create a colonial ambiance that original owner, wealthy James Habersham must have enjoyed. The piano bar in the basement is a Savannah institution. Open 7 days a week for dinner. Moderate. (912) 232-4286.
Pirate's House. 20 E. Broad. This family seafood restaurant, in Trustees' Garden near Washington Square, is popular with tourists, and is worth a visit for its nautical ambiance and creaky charm. Built in 1794, the structure first served as a tavern for sailors. Robert Louis Stevenson is said to have set part of his classic Treasure Island here. One frequently repeated tale is that Captain Flint died in an upstairs room and his angry ghost still can be heard roaming the halls. Of special note is the "Herb House," a room in the restaurant that may have been built in 1734, making it the oldest structure in Georgia. Lunch and dinner, Sunday brunch. Moderate. (912) 233-5757.
Located upstairs at the Pirate's House is Hannah's East, a jazz nightclub that features legendary Ben Tucker, as well as Emma Kelley, "Lady of 6,000 Songs," who was featured in Midnight in the Garden of Good and Evil. Open 5 p.m. until 2 a.m. (912) 233-2225.
Walls' BBQ. 515 E. York Lane (Off Oglethorpe Avenue between E. Houston Street and W. Price Street). Opened in 1968, Walls' has become a local legend, with some zealots declaring that Walls' barbecue is the best on the southeastern coast. The sauce is mustard-tangy, and is served on delicious open-pit cooked ribs and chicken. The pork sandwich is a monster. Lunch Wednesday, lunch and dinner Thursday through Saturday. Inexpensive. (912) 232-9754.
Night Life in Historic District
Appropriately, Savannah has some great English-flavored pubs that serve good food to accompany your microbrew of choice. A great place for a sandwich and beer is Churchill's Pub, 9 Drayton St. (one block east of Johnson Square). It's British owned and operated, with darts, fish `n' chips, and Yorkshire pudding. (912) 232-8501. Also worth your drinking dollars are Six Pence Pub, 245 Bull St. (North of Liberty near Chippewa Square), (912) 233-3156, and McDonough's, 21 E. McDonough St. (one block east of Chippewa Square). Food and drinks served early (8 a.m.) and late (2 a.m.) 7 days a week. (912) 233-6136. J.J. Cagney's. 17 W. Bay Street. This section of Bay Street, between City Market and River Street, is becoming a nightlife strip, with Cagney's leading the way, featuring live rhythm and blues. (912) 233-2444.
---
Read and add comments about this page
---
Reader-Contributed Links to the Georgia Coast and Okefenokee Book: