River Street
[Fig. 7] On the bluff facing the Savannah River are nine blocks of renovated cotton warehouses that house about 80 restaurants, pubs, night spots, hotels, shops, galleries, and boutiques. Adding to the sight-seeing is a working harbor of huge, building-size cargo ships, tug boats, and sailing ships that are seen plowing the murky waters of the Savannah River. During the day, families stroll alongside the river, eating ice cream cones and browsing in gift shops. At suppertime, people are seen feasting on seafood and steaks in some of Savannah's best restaurants. Come sundown, Savannah's night life kicks in, and couples amble through the streets as live music reverberates out of pubs and nightclubs.
On River Street, there are several good options for lodging that offer a view of Savannah's main natural attraction (the river), along with quick walking access to River Street, City Market, and the historic squares of the city.
It hasn't always been this way. The city had turned its back on the historic waterfront, which was abandoned and deteriorating when a wide-ranging group of civic leaders joined forces in the early 1970s to create the River Street Urban Renewal Project. When the work was finished in 1977, approximately 80,000 square feet of abandoned warehouse space on the historic waterfront had been transformed into Savannah's most popular tourist attraction. Additional improvements have produced an attractive city park that hosts many festivals and special events.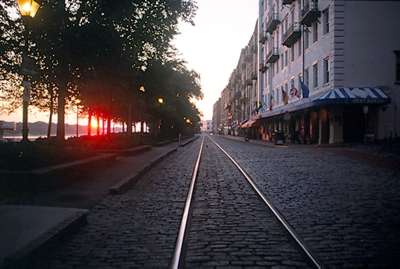 The ambiance of the waterfront is an atmospheric fusion of nineteenth century old-world charm and twentieth century tourist potpourri. Stony ramps that connect Bay Street with River Street are made of English ballast stones, which gave schooners added stability for their trips from Europe, only to be thrown out and replaced with cotton bales in Georgia. The stones were used in buildings and walkways, and became the foundation of ballast stone islands found today in river channels.
Along the waterfront are two memorials worth closer examination. One is the Waving Girl, a 1971 statue by Felix De Weldon that honors Florence Martus, a Savannahian who greeted every ship entering the port from 1887 to 1931 by waving a cloth from her home on Elba Island (see Cockspur Beacon). The other is a memorial to the 1996 Olympics, during which Savannah hosted the yachting event.
On the bluff next to Bay Street are the gold-domed City Hall, Factors Walk, and Emmet Park (see Historic Parks and Cemeteries). City Hall was built in 1905 on the site of the Old City Exchange. Notice the bench commemorating Oglethorpe's landing on February 12, 1733. Factors Walk once housed the offices of nineteenth century cotton merchants. Today, a variety of businesses call it home. Of interest to the historian are the Washington Guns, presented by George Washington when he visited Savannah in 1791. The bronze cannons were captured from the British at Yorktown.
Directions: River Street is located north of Bay Street. River Street can be driven, but walking is strongly recommended.
For more information: Savannah Waterfront Association. Phone (912) 234-0295.
River Street Lodging
Old Harbour Inn. 508 E. Factors Walk. A former factory built in 1892, this modernized inn features suites with kitchens, living rooms, and balconies where one can watch ships navigating the Savannah River. Full continental breakfast, evening cordials, and turndown service are part of the inn's charm. Moderate to expensive. (800) 553-6533. River Street Inn. 115 E. River Street. Built circa 1853, this cotton warehouse serves as a beautifully furnished inn and offers "the charm of an inn with the convenience of a full-service hotel." Can't disagree. Huey's is located here (see below). Moderate to expensive. (800) 253-4229. Hyatt. 2 W. Bay Street. If you are looking for a totally modern hotel with all the amenities, this is your best choice. Rising seven stories, some rooms have views of the river. Restaurant, lounge, and indoor pool are part of the building. Moderate to expensive. (800) 233-1234. Mulberry Inn. 601 E. Bay Street. Across the street from Factors Walk and River Street, this sumptuous inn, with eighteenth century paintings, crystal chandeliers, and a lush courtyard, features first-class Southern hospitality. Moderate to expensive. (800) 465-4329.
River Street Restaurants
Huey's. 115 E. River Street. This Cajun/Creole restaurant is one of Savannah's most popular breakfast spots, offering rich coffee, beignets, omelets, and pancakes. Lunch and dinner offer traditional New Orleans fare such as étouffé and jambalaya. Breakfast, lunch, dinner. Moderate. (912) 234-7385. River House. 125 W. River Street. Seafood creations and a stylish, fine dining atmosphere in an 1810 cotton warehouse. Mesquite grilled fish, fresh from the Atlantic. Extensive wine list. Lunch and dinner. Moderate to expensive. (912) 234-1900. The Shrimp Factory. 313 E. River Street. Pine Bark Stew is one signature item, as well as large cocktails, chargrilled fish and steaks, and, oh yeah, great shrimp dishes. Lunch and dinner. Moderate. (912) 236-4229. W.G. Shuckers. 225 W. River Street. This locals' favorite, a mainstay on River Street, is a great place for fresh oysters, cold beer, she-crab soup, and a full menu of seafood specials. Lunch and dinner. Moderate. (912) 443-0054.
River Street Night Life
Billy Bob's. 21 E. River Street. Newcomer on the street features bar food with a Western twang. Barbecue, steaks, and burgers. Bluegrass music. Lunch and dinner. (912) 234-5588. Kevin Barry's. 117 W. River Street. This friendly Irish pub has food, live Irish music sing-alongs, a deck for watching River Street action, and is ground-zero on St. Patrick's Day. (912) 233-9626. The Warehouse. 18 E. River Street. Live music, drink specials, pool, and darts. (912) 234-6003. Wet Willie's. 101 E. River Street. Frozen daiquiris and bar food basics. (912) 233-5650.
---
Read and add comments about this page
---
Reader-Contributed Links to the Georgia Coast and Okefenokee Book: