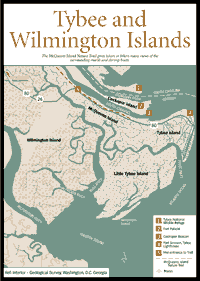 Islands Near Tybee
Oatland, Whitemarsh, Wilmington and Talahi Islands
[Fig. 6, 9] As travelers head east to Tybee Island on US 80 from Thunderbolt or the Island Expressway from downtown Savannah, visitors will cross the Wilmington River, Turner's Creek, and Bull River. On the right and left are the residential communities of Oatland, Whitemarsh, Wilmington, and Talahi islands, built on high ground in the salt marsh. Approximately 16,000 residents call these islands home. Residential construction continues on the islands and gated communities are found along various tidal creeks. As a major residential area, the islands have all the usual commercial businesses that you find anywhere else. If you are on Tybee and need a specific bank, pharmacy, or Happy Meal, Wilmington Island is probably the place to find it.
Located on Wilmington Island is the Wilmington Plantation, built in the 1920s in the Spanish style. The Wilmington Island Club—a semi-private country club—is located here. A small shrimp fleet docks at Turners Creek Bridge. Wilmington Island Seafood Co-op, a popular fresh seafood market, is found on a short dirt road on the right on the western side of Turner Creek on Johnny Mercer Boulevard after you cross over the bridge. This is a good place to pick up fresh fish, crabs, and other tasty low country edibles.
Restaurants on Wilmington Island
Williams Seafood Restaurant. 8010 E. US 80. In the Savannah area, this is one of the most famous restaurants, which started as a roadside stand selling live and cooked blue crabs in the 1930s. Today, it is popular for fried seafood meals and family friendliness. Lunch and dinner. Moderate. (912) 897-2219.
Oatland Island Education Center
[Fig. 6(2)] Nestled into a mixed maritime forest only 10 minutes from downtown Savannah is an environmental education center that serves as a valuable resource to the state. With 175 acres of pine and maritime forest, salt marsh, freshwater pond, and a dock to the Richardson River, Oatland Island Education Center provides an excellent outdoor classroom where students can learn about the natural communities and processes so important to the Georgia coast. The general public is also welcome to walk the hiking trails that wind through woodland and marsh, leading to exhibits of live animals that are or were native to the area including alligator, fox, bison, black bear, wolf, panther, bobcat, birds of prey, and wading birds. The trail also features a heritage homesite and a barnyard with sheep, cows, chickens, goats, and turkeys.
The center is owned and operated by the Savannah-Chatham County Public School System, and is open to local and out-of-county schools. Some 20,000 public and private schoolchildren use it every year, making the signs along the entrance drive charmingly appropriate: "Slow—Children and Animals in the Road." More than 40 programs are available, including marine and estuarine ecology, invertebrate and botanical studies, freshwater pond study, endangered species, and astronomy. Kindergarten children can learn from an hour-long barn animal program, and more advanced students can use one of the two observatories that house 10- and 16-inch reflector telescopes.
A cabbage palm-lined drive leads to the impressive white-columned, brick main building that serves as headquarters, indoor laboratory, gift shop, and exhibit hall. It was built in 1927 as a retirement home for the Brotherhood of Railroad Conductors, then used as a Public Health Service hospital during World War II. The U.S. Centers for Disease Control and Prevention then used it as a technical development laboratory, and when it was declared surplus in 1973, it was given to the Chatham Board of Education. The picturesque building was used in the movie The General's Daughter, starring John Travolta.
An unusual set of whale bones is on display inside the building. They are the skeletal remains of a 50-foot-long fin whale, an endangered species that washed ashore on some rock jetties on Tybee Island in 1989. Hans Neuhauser, a primary investigator of whale strandings at the time, obtained the bones for the education center.
The forests that seem such a permanent part of Oatland Island are actually second growth. In the eighteenth and nineteenth centuries, the area was cleared for a cotton plantation belonging to the McQueen family. The McQueens were made famous in Eugenia Price's novel, Don Juan McQueen, and have another island named for them near Fort Pulaski (see McQueens Island Nature Trail). Fortunately, the forests have grown back, and feature natural communities worth examining. Oak, pine, and magnolia are some of the trees you will see, along with cedar, sweetgum, bay, and crape myrtle with Spanish moss. Sawtooth palmetto, yaupon holly, and winged or shining sumac are common plants. One section of forest is carpeted with green ferns, and muscadine grape vines hang in the midstory. The marsh consists of Spartina species and the more highground-preferring needlerush.
No school system funds are used for animal food, veterinary care, or construction of the habitats. These activities are supported by grants, gifts, and donations. Students volunteering in programs such as the Youth Conservation Corps and Young Adult Conservation Corps built most of the original habitats boardwalks, trails, docks, and observatories.
Directions: Exit I-95 at Exit 17A/99A and proceed to Savannah on I-16. I-16 ends at Montgomery Street. Go straight to Bay Street where you turn right. Proceed on Bay Street to the President Street Extension. This becomes Island Expressway. Approximately 1 mile after crossing the Wilmington River Bridge, look for signs to Oatland Island Education Center on right. Turn right onto Barley Drive and proceed to the main gate on left.
Activities: Nature hiking, bird-watching, educational exhibits, interpretive programs by prior arrangement, special events called Second Saturdays at Oatland are planned every year. Contact Oatland Island Education Center for changing list of events.
Facilities: Hiking trails, exhibits, study sites, visitor contact station, gift shop, bathrooms.
Dates: Open Monday through Friday 8:30–5, Saturday 10–5.
Fees: Admission is $2 per person.
Closest town: Savannah.
For more information: Oatland Island Education Center, 711 Sandtown Road, Savannah, GA 31410. Phone (912) 897-3773.
Oatland Island Discovery Trail
An hour and a half, comfortable walking shoes, and insect repellant are recommended for fully appreciating this nature walk. This is a chance to not only observe some common native species still found in the wild but also learn about animal species that used to roam the Southeast until they were pushed out by man. It will surprise some people to learn that bison, wolves, and panthers used to be found in Georgia.
Observing the shy animals in their enclosures requires sharp eyes, a quiet approach, and a bit of luck. Beginning at the main building, pick up a trail guide and follow the dirt path to the bird aviary. From there, the trail goes by an alligator exhibit and a panther exhibit before crossing over the marsh on an excellent boardwalk. The 500-foot wooden walkway allows nature lovers a close view of the marsh rarely afforded by boat or road. Look for marsh snails and periwinkles climbing the green stems of Spartina grass. Just past the 0.5-mile mark is the bobcat exhibit. After viewing the bobcats, the hiker goes past a fox pen before crossing the main entrance road to the aviaries where southern bald eagles and other birds are on display. These birds were crippled and brought to the center for rehabilitation. Their handicaps prevent them from surviving on their own and they remain in captivity. At the 1-mile mark, hikers will see a 2-acre compound that holds large white-tailed deer. A quarter mile from here is the heritage homesite. These traditional settler cabins of the coastal area, built circa 1837, were moved here from Wayne County (Tilman cabin) and Gumbranch, Liberty County (David Delk). Not far from here is the 6-acre Ledbetter pond, which is used for studying freshwater environments. Frogs and turtles are common here. Finishing up the trail are three large mammal exhibits. First is a black bear enclosure, then an easy walk to some majestic wolves that have been extirpated from the Southeast. Notice their dens dug into the earth. The final treat is a small herd of bison.
Trail: 1.75-mile wildlife trail.
---
Read and add comments about this page
---
Reader-Contributed Links to the Georgia Coast and Okefenokee Book: