| | | |
| --- | --- | --- |
| | The Natural Georgia Series: The Chattahoochee River | |
---
Fieldtrip: Exploring the Chattahoochee River
By Kara J. Wiergacz
The Chattahoochee River can be a great place for recreation. Many stretches of the river are beautiful and offer a chance to see wildlife. There are many different ways to experience the waters of the river, ranging from fishing to canoeing to sight-seeing on the Riverwalk in Columbus. A few of the most popular ways to enjoy the river are profiled here, excluding reservoir recreation. For seasonal hours or more information, visitors should contact the site or business of interest.
Canoeing/Rafting: Perhaps one of the most intimate ways to explore the river is through canoeing and rafting. A 16-mile section of the Chattahoochee, beginning in Helen, is the area of the river most commonly rafted. (However, individuals with personal crafts can canoe the entire river year-round.) This stretch of river is divided into three sections according to the level of difficulty a canoeist or rafter may encounter. Section One is a 6-mile, mild stretch of water perfect for beginners and is considered the most scenic. Section Two has Class II rapids around Smith Island, is 5 miles long, and is appropriate for beginner to intermediate levels. Section Three is also 5 miles long and is considered the whitewater section, with Class II and III water. It is recommended for advanced level canoeists and kayakers. Canoeing and kayaking can be done year-round individually, but commercial outposts are seasonal. Wildewood Outfitters is a good place to start your personal adventure on the Chattahoochee. They are open daily March through September and weekends through November. Wildewood offers rafting, kayaking, and canoeing half-day trips. Trips can be guided and when this is the case, lunch is provided. Wildewood Outfitters rents equipment and also offers kayaking and/or canoeing instruction. For more information, contact Wildewood Outfitters, (706) 878-1700.
Chattahoochee Nature Center: Located in Roswell, this private, nonprofit educational facility along the Chattahoochee River boasts 130 acres of preserved wetlands and woodlands. Their programs and exhibits are a great way to learn about the wildlife of the Chattahoochee and its ecosystems. The Center's Beaver Habitat, Bald Eagle Aviary, Georgia Wetlands Habitat, and Raptor Aviaries attract thousands of visitors a year. There are gardens filled with Georgia's natural vegetation to explore, as well as an extensive Forest Trail system winding through the Nature Center's flora. Guided trail walks on the River Boardwalk and Woodland Forest are offered on the weekends and a naturalist gives a presentation every Sunday afternoon. The Nature Center also offers special programs for both children and adults. Children can enjoy activities such as Nature Workshops and Nature After Dark. For adults, there are guided Canoe Floats. The Nature Center is open daily except on New Year's Day, Thanksgiving, and Christmas. There is a small admission fee and memberships are available. For more information on the Chattahoochee Nature Center, call (770) 992-2055 or visit their Web site, www.chattnaturecenter.com.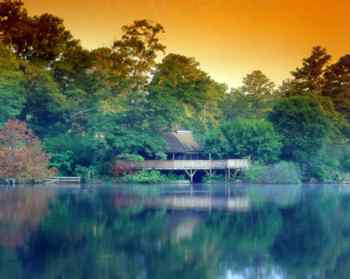 Chattahoochee River National Recreation Area: Established by Congress in 1978, the CRNRA is designed to preserve the beauty and recreational value of the Chattahoochee River. The CRNRA currently encompasses 48 miles of river and 16 parks, called units. These parks are run by the National Park Service and can be found from Buford Dam at Lake Lanier to Peachtree Creek in Atlanta. The units are day use only and offer a range of activities, including hiking, jogging, canoeing/kayaking, fishing, and picnicking. Three of the most popular units are Powers Island, Sope Creek, and Cochran Shoals. These units are located next to one another, but offer quite different recreation for visitors. Powers Island is off of Interstate North Parkway and is a put-in for canoeists and rafters of the Atlanta 'Hooch. For those who prefer to stay on land, there is a 1-mile easy hiking trail through the forest. If you want more hiking, visit nearby Sope Creek, just off of Paper Mill Road. A historic unit, it is most known for its stone ruins of the Marietta Paper Mill. It has short and long trails, both easy and difficult, and bicycle access. The trails and access on the west side connect with the Cochran Shoals unit, which is the busiest of all the units. Past the Powers Island Unit, on Powers Ferry Road, Cochran Shoals is on the right. The unit parallels the river, and the jogger, walker, biker, or dog walker can enjoy the flat 3-mile fitness trail while looking for wildlife in and around the Chattahoochee. A boardwalk into a swamp area gives you a chance to see the wetlands and there are several miles of hiking trails of all levels of difficulty. For more information about the CRNRA and its facilities, call (770) 399-8070.
Fishing: The Chattahoochee is a good place to fish, particularly for trout. You can choose to fish either above or below Buford Dam-both spots boast plenty of fish and great people, should you need equipment or guidance during your expedition. North of Buford Dam, from Highway 75 Alternate and the bridge in Robertstown to the Helen city limits, the Chattahoochee is open year-round to the public. Cane poles, spinning poles, or a fly rod can all be used. A fishing license is a must. Below Helen and downstream there is much private property. Check with landowners before fishing in this area. Approximately 1.5 miles of private property is occupied by Unicoi Outfitters, a full-service fly-fishing shop and guide company. Unicoi specializes in wade fishing, particularly fly, and they offer day and half-day fishing trips in the Chattahoochee and surrounding creeks (half-day trips are great for novices). Also check out The Gilligan's Tour, which is designed for two people to spend three hours with a guide, all equipment provided. Catering to fishing enthusiasts of all levels, they offer rental equipment and fly-fishing lessons. They also sell equipment. Fishing with Unicoi is done on a catch and release system and barbless hooks are used. The most popular time of the year for fishing is fall and spring, but trout can be caught year-round. For more information and prices, call (706) 878-3083.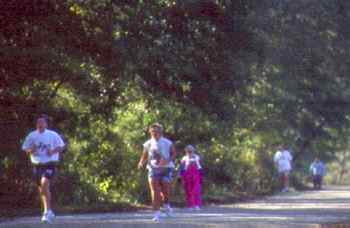 Below Buford Dam to Peachtree Creek is a 50-mile stretch of the Chattahoochee River ripe for trout fishing. Here, River Through Atlanta Guides can be found. This is a reservation-based business offering full-day fly or artificial lure fishing trips on a drift boat. All trips are guided, with the guide providing information on trout behavior, entomology, fishing techniques, weather and river conditions, and drinks (you have to furnish your own lunch). The advantage of this kind of trip on the Chattahoochee is the amount of river you get to see. Also, individual service is a priority, with only one client per day. The maximum capacity is two anglers and kids are catered to. Fish are caught on a catch and release system, but there is a limited harvest rule. River Through Atlanta Guides is open year-round. The best time to fish is the spring. For more information and prices, call (770) 650-8630.
More information about the Chattahoochee River and its recreational opportunities can be found in The Riverkeeper's Guide to the Chattahoochee. This book is the leading guide to the Chattahoochee and a great resource for people interested in enjoying the many activities the river has to offer.
---
Read and add comments about this page
---
Go back to previous page. Go to Chattahoochee River contents page. Go to Sherpa Guides home.
---
[ Previous Topic | Next Topic ]