| | | |
| --- | --- | --- |
| | The Natural Georgia Series: Atlanta's Urban Wildlife | |
---
Jerry McCollum: Education is the Foundation
By Drew Davis
The 1-acre pond behind Jerry McCollum's home just south of Madison seems tranquil this Sunday afternoon, but McCollum's sharp eyes detect signs of wildlife as he looks toward the far end. "See those little waves down there?" he tells his guests. "A bird may have just taken off."
One of his guests, who happened to have been looking in that direction while the rest of the group was studying the near end of the pond, quickly confirms McCollum's theory.
The evidence of the bird's flight is the sort of observation one might expect from a lifetime sportsman who carved out a distinguished career with the Georgia Department of Natural Resources before assuming his current position as president and chief executive officer of the Georgia Wildlife Federation. Today, though, McCollum plays the role of the genial host, showing visitors around the charmingly rustic, 62-acre property where he lives. Here he helps his wife, professional horticulturist Terry Tatum, operate Wildwood Farms, a nursery specializing in native Georgia plants.
McCollum clearly savors walking among the nursery's carefully prepared display gardens, some of which exhibit blooms even in early February. Simple paths lead through the gardens and extend outward to McCollum's house on one side, the pond on another, neatly aligned greenhouses on a third, and a turn-of-the-century, one-room cabin on the fourth. Tatum moved the cabin to the property, reassembling it piece by piece, and it now resembles nothing so much as an old country church.
Though McCollum obviously enjoys his 25-acre farm and the surrounding wilderness that makes up the rest of his property, he finds his time here limited. At the beginning of the week, he was in Atlanta, lobbying top-ranking state officials for groundbreaking legislation that passed and could mean the greatest acquisition of land by the state in Georgia's history. On Thursday he left for Savannah, where he discussed environmental programs with an array of regional foundations at a conference organized by the Turner Foundation. He barely had time to pick up more clothes in Madison on Saturday before heading on to Helen, where he advised the latest in a series of candidates for governor and lieutenant governor on wildlife issues Saturday night and Sunday morning. So far, four different candidates for these offices have asked McCollum for information and insights they could use in crafting campaign platforms and, if they are elected, proposals for government programs.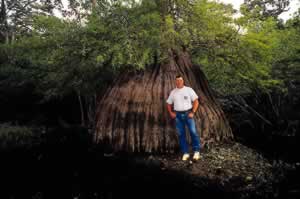 McCollum doesn't seem to mind his sometimes-breakneck schedule. He sees his current work as a mission. His goal, he says, is "to impart a message to everyone and to hunters and young people in particular that wildlife is a publicly owned resource." The public must demand professional management of this resource, he says, because proper management is "not intuitive."
In McCollum's view, how wisely the state practices stewardship of wildlife in the future depends on education now. From this perspective, even urban residents need to understand and relate to wildlife. "Education is the foundation of it, for sure," McCollum says.
For McCollum, an avid hunter and fisherman who is especially fond of turkey hunting, education about wildlife was natural. Long before he became a professional wildlife biologist certified by The Wildlife Society, he was learning about responsible fishing and hunting practices at his father's and grandfather's knees.
Growing Up In The Mountains
McCollum was born in the Georgia mountains in 1944 and lived in Ellijay until he entered the sixth grade. Growing up in Gilmer County, he learned about wildlife and nature from his paternal grandparents. "My grandfather was a highly ethical and principled hunter, and my grandmother was one of those mountain women—very wise about plants and a gardener," he recalls. "She knew a great deal about the ecosystems of the Blue Ridge without knowing, really, how much she knew."
At the ages of six and seven, McCollum was learning simple lessons from his grandmother about nature: how leaves from different trees have different shapes and how the color plants show when they first sprout will be similar to the color they show in the fall. As he grew, his grandfather would let him go hunting, but he was given only one bullet at the time. He could take as long as he wanted to shoot it, but before he was given another bullet, he had to recount an adventure from the previous shot. His father was more of a fisherman than a hunter, and just as he learned how to hunt responsibly from his grandfather, he learned how to fish responsibly from his father.
McCollum's family moved to Atlanta in time for him to attend the sixth grade there, and his parents did not return to Gilmer County until his senior year. Yet he never truly left the mountains.
"As I was growing up, all through school, as soon as school was out, I would pack up and go spend the summer in the mountains with my grandfather for several weeks," he says.
After graduating from West Fulton High School in 1962, McCollum attended West Georgia College in Carrollton for two quarters on a Jaycee scholarship. When the scholarship ran out, he began a three-year stint as a Southern Bell telephone repairman. Around this same time, he married his first wife.
Then in 1966 he signed up for a three-year tour in the Army. McCollum, who had served as commander of his ROTC unit in high school, could have allowed himself to be drafted for two years, but signing up for a third year gave him the chance to choose the kind of work he would be assigned. Long fascinated with World War II armor battles, he chose to work with tanks.
Upon graduating No. 1 in leadership in his 110-member class at the U.S. Army Officer Candidate School in Fort Knox, Kentucky, McCollum was sent to Fort Hood, Texas. There he served first as a tank company commander and then as a battalion operations officer. Even though this second position is usually filled by a major and McCollum was only a first lieutenant, he was not only given the position but also awarded the Army Commendation Medal for meritorious service as a result.
After another year with the phone company, McCollum took advantage of his education benefits as a veteran and returned to West Georgia College. Back at school, he found that the years since his first two quarters had made him a more conscientious student. He pursued his interest in wildlife and nature at West Georgia by majoring in biology, minoring in chemistry, and concentrating on his wildlife, habitat, ecology, and botanical skills.
He received his bachelor's degree in 1974, and a year later he earned his master's degree in biology with the completion of his master's thesis, "Distribution of Fishes of the Dog River Drainage." He worked primarily with two professors, Carl Quertermus and Larry Dyck. He was Quertermus' first graduate student, and today, they again work together through the Georgia Wildlife Federation, for which Quertermus serves as a director-at-large. Quertermus characterizes McCollum as "very determined" and says, "He's very focused on what he wants to accomplish. He's a hard worker. And as a student, he was extremely good at independent work."
Quertermus thinks so highly of McCollum's work with—and on behalf of—the environment that he has recommended McCollum for a Distinguished Alumnus Award. "I think Jerry has made a tremendous contribution over the years," Quertermus says.
Working Through The DNR Ranks
While preparing his master's thesis, McCollum worked as an intern in the Georgia Department of Natural Resources's Office of Planning and Research. Jim Wilson, then head of the Office of Planning and Research and now executive vice president and chief operating officer of the Georgia Wildlife Federation, not only brought McCollum on board as an intern but also later hired him to manage the Natural Areas Unit after he received his degree.
In his early work with the DNR, McCollum focused on the protection of endangered species. He was initially hired as an intern to review and reference protected wildlife and plants; his responsibilities as a full-time employee grew to include the inventorying of natural areas around the state as part of Governor Jimmy Carter's Heritage Trust Program. His lifelong interest in wildlife and wildlife habitat and his resulting educational background made him a natural choice for this work, but he was also able to draw on the organizational skills he had developed as a battalion operations officer. As a result, he produced thorough, polished results, and his research helped foster legislative amendments to provide greater protection for endangered species on public lands.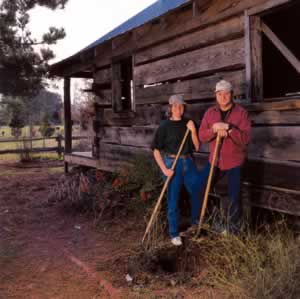 During his work as an intern and then as a biologist with the Office of Planning and Research, he wrote or cowrote nearly a dozen professional publications, mostly on endangered species. Among his collaborators was his mentor, Carl Quertermus. His work also formed the basis for much of the wildlife information contained in the 1978 DNR publication "The Altamaha: A Scenic and Recreational River Proposal for the Great Altamaha Swamp."
Wilson recalls that McCollum researched both endangered plants and endangered animals and prepared DNR publications on both subjects. It is "kind of unusual to be able to cross that line," Wilson says.
In 1978, DNR Commissioner Joe D. Tanner asked the up-and-coming biologist to work as a senior wildlife biologist on Ossabaw Island, which the state had agreed to buy as Georgia's first heritage preserve. McCollum relocated to the island a year before the land deal was closed, and he oversaw the transition of the island from private to public land over the next three years. His move to Ossabaw roughly coincided with his divorce from his first wife.
McCollum was relatively isolated at Ossabaw, which he could leave only by boat because there was no bridge. Ironically, though, his time on the island allowed him to make important political contacts because the Ossabaw purchase was such a high-profile issue.
"Sooner or later, everybody came to visit Ossabaw," he says. He recalls visits by everyone from George Busbee, then Georgia's governor, and Mike Bowers, now a leading gubernatorial candidate himself, to Marlin Perkins, then host of "Mutual of Omaha's Wild Kingdom." Carl Quertermus, his main graduate professor, would also visit, often bringing students to tour the island.
McCollum's time on the island taught him valuable political lessons. For example, he recalls with a chuckle how he was forced to repaint a maintenance shop after the island's former owner, who decided she did not like the color, called the White House to register her displeasure.
In 1981 McCollum was again promoted, this time to assistant to the director of the DNR's Game and Fish Division (later renamed the Wildlife Resources Division). In this position, he worked closely with sportsmen's groups around the state. Because he saw that citizens' watchdog groups were needed to ensure that political officials stay out of wildlife management, McCollum excelled in this work. In fact, his efforts were partially responsible for a jump in membership in the Georgia Wildlife Federation, and the Federation honored him in 1982 with a Special Conservation Achievement Award.
McCollum also supervised the Natural Areas Program and the Endangered Plants Program, as well as the administration of the American Ginseng Program. He developed early DNR urban wildlife programs, and he joined in the effort, which was eventually successful, to set up a state income tax check-off for funding a nongame wildlife program. In addition, as assistant to the director, he had what he says in retrospect was his "dream job."
Lonice Barrett, who worked with McCollum on a variety of projects during McCollum's DNR career and who now serves as DNR commissioner, describes McCollum as "always straightforward, sometimes outspoken, but always sincere and knowledgeable about natural resources in our state."
"Jerry McCollum is one of the most outstanding leaders I know in Georgia in terms of his commitment to the out-of-doors," Barrett says. "I've got immense respect for him." The commissioner adds, "If he believes in something very strongly, he'll fight you about it. But you'll still like him after the fight."
Re-establishing Credibility
Even while he was enjoying his "dream job," events were occurring in the Georgia Wildlife Federation that would change the course of McCollum's life. The Federation had been founded in 1936 as an outgrowth of the first North American Wildlife Conference. Its overall objective was "to encourage the intelligent management of the life-sustaining resources of the earth—its essential water resources—its protective forests and plant life—and its dependent wildlife—and to promote and encourage the knowledge and appreciation of these resources, their interrelationship and wise use, without which there can be little hope for a continuing abundant life."
In the early '80s, many of the Federation's members, especially the new members, questioned how well the Federation management was meeting this objective. In particular, they questioned whether the focus had narrowed too much on hunting, fishing, and gun ownership and also whether the Federation's resources were being properly used. McCollum says of this period, "The organization was in disarray and had lost sight of its broad mission."
Beginning in the early 1980s, local affiliate club leaders led a return to the Federation's original principles in a dramatic reorganization that included a court battle and eventually led to the purging of the existing staff. By 1987, a new Board of Directors was looking for someone who could help the Federation re-establish its credibility. Jerry McCollum was in a unique position to do so, and both he and the board knew it. "My work with the Federation was something I was inspired to do," he says. "I wasn't looking for it." McCollum did, in fact, seem settled. After living first in Conyers and then in Covington, he and Tatum had bought the Madison property, a former hog farm, in 1985. They had first met at West Georgia College, and Tatum had worked as a researcher for him at Ossabaw. In 1986 they married.
McCollum turned down the offer to serve as the Federation's executive several times before he eventually agreed to leave the DNR in order to work for the Federation. His good friend David Waller replaced him as assistant to the director, and today Waller sits in the director's chair.
Yet McCollum harbors no regrets. He believes in the Federation's mission as passionately as he did the day he took its reins. "None of our wildlife can survive if all of our wildlife doesn't survive," he says.
Leading The Wildlife Federation
When McCollum was hired as executive vice president of the Georgia Wildlife Federation, he was the only staff person. The Federation was deeply in debt with virtually no assets.
Today, as president and CEO, McCollum heads a staff of 12 permanent, full-time employees and one temporary employee and works with several independent contractors, such as Lenz Design and Communications, the company that produces the Natural Georgia Series for Georgia Wildlife Press. The Federation has grown to more than 58,000 members, including 46,000 sportsmen, and it has an annual operating budget of $1.2 million. It owns 115 acres on the Alcovy River.
Yet McCollum has even greater plans. He wants to see the budget grow to $5 million, and he wants to see training centers on Federation property around the state. Already in the bank is $1.5 million to build an education center and a permanent home for the Federation on the Alcovy property. "Any nonprofit that wants to be around for a long time needs to own something or do something that's richly traditional," McCollum says.
"It was really he and a few others that turned the Federation around," Jim Wilson, the executive vice president, recalls. He credits McCollum with broadening the membership base, which, in turn, has given clout to the lobbying efforts McCollum has spearheaded.
DNR Commissioner Lonice Barrett says of McCollum, "He has taken an organization, the Georgia Wildlife Federation, and helped it to rise to its most lofty heights." Barrett also calls McCollum "a strong proponent of environmental education."
McCollum is, in fact, largely responsible for the Federation's current emphasis on urban wildlife education programs, such as the Backyard Wildlife Habitat program, which helps people attract wildlife to their backyard and identify and study it, and the Schoolyard Wildlife Habitat program. The Backyard Wildlife Habitat program is a national program that the Federation has promoted in Georgia; the Schoolyard Wildlife Habitat program is an original Georgia program based on the Backyard Wildlife Habitat program. It is being used as a model for similar programs around the country. As the first state to have such a program, Georgia is by far the leader in the number of certified Schoolyard Wildlife Habitats.
The preface to the 1991 DNR booklet Attracting Wildlife to Your Backyard explains the importance of urban wildlife education: "As we see more land cleared for commercial and residential expansion, we experience the gradual, but persistent, loss of habitat which is necessary to support the wildlife which enriches our lives." McCollum cowrote the booklet, along with Chuck Gregory of Georgia State Parks and Historic Sites, Terry Johnson and John Hicks of the DNR's Game and Fish Division, and Jerry Hightower of the National Park Service.
In his lobbying work, McCollum advocated Land, Water, and Wildlife Heritage Trust Fund legislation, a proposal that passed and could increase the percentage of property the state has acquired for protection from roughly 3 percent to between 7 and 9 percent. He was instrumental in obtaining Gov. Zell Miller's support for this initiative, which would produce the biggest land acquisition program in the state's history. Because the Heritage Fund proposal involves a constitutional amendment, it must be approved by voters in November.
Ken O'Shields, chairman of GWF's Board of Directors, recalls that when the cost of hunting and fishing licenses went up, McCollum was a "strong proponent" of putting the increased revenue into a separate fund for wildlife habitat instead of the general fund. "He's a strong foundation for the Federation and has brought a lot of attention to the Federation through his legislative work," O'Shields says.
According to O'Shields, McCollum has been a "strong voice" for a wide variety of groups with environmental interests, from hunters and fishermen to garden clubs, conservation groups, and even Zoo Atlanta. "Jerry has been a leader in environmental issues all over the state," O'Shields says.
O'Shields also calls McCollum "a visionary." As an example, he remembers how, prior to the purchase, he and McCollum were visiting the property the Federation now owns on the Alcovy River. McCollum happened to see a small tree which, with his botanical expertise, he immediately recognized as a Pawpaw Tree. On the spot, he came up with the idea that the Federation could raise funds by selling bottles of Pawpaw jelly made from the tree's edible fruit. (McCollum quickly passes the credit for that idea on to Terry Tatum.)
Working For Wildlife
McCollum works in a variety of ways to promote wildlife management and environmental education programs in Georgia, even aside from what he does strictly as head of the Georgia Wildlife Federation. Jim Wilson says, "I think there are really several outstanding environmental leaders in Georgia, but I don't think there's anyone more dedicated than Jerry is."
In 1992, Governor Miller appointed McCollum and 15 other distinguished Georgians to the Preservation 2000 Land Acquisition Advisory Council, which has presided over the most successful habitat acquisition program in the state's history (although McCollum hopes the Heritage Fund will be even more successful). Three years later Miller appointed McCollum to chair the 11-member Coordinating Council for Georgia's River Care 2000 Program. The council is charged with studying Georgia's rivers and their management and recommending specific management and protection strategies.
In a sense, McCollum's ties to Miller go back to the beginning of McCollum's career, when he worked in the DNR's Natural Areas Unit. That unit was created by the Natural Areas Council Act of 1966—Miller's first bill as a state senator. McCollum also credits Miller with working to protect and preserve Georgia's wildlife in a variety of ways during Miller's long stint as lieutenant governor.
In yet another prestigious appointment, McCollum was named chairman of the Georgia Environmental Education Council in 1994. The General Assembly of Georgia created this panel in 1993 to advise the governor, the state legislature, and the state school superintendent on environmental education.
When he swore McCollum in as council chairman, Governor Miller said, "Jerry possesses the skill to lead the council and to assist me in monitoring the funding request in the general assembly. I am very glad to have Jerry add his talent to an outstanding group of environmental educators and community leaders on the Georgia Environmental Education Council."
As the current chairman, McCollum has been working to implement the goals identified by the council under his predecessor, Dr. Ron Pulliam. One of those goals is securing state funding for outdoor classrooms. In response to this identified need, the general assembly has been setting aside 200 grants of $500 each for outdoor classrooms at local schools each year. Another high priority for the council is to work with the university system to train prospective teachers in the techniques of environmental education.
This last goal reflects McCollum's fundamental belief in the power of education. The ultimate aim of that education is the protection of wildlife. In his foreword to the Georgia Wildlife Viewing Guide, which he cowrote, with Betsie Rothermel and Chuck Rabolli, for Georgia Wildlife Press in 1996, McCollum says, "There are many beautiful, entertaining, and interesting pieces of the natural world to watch, and one of those pieces is our native wildlife. It is not always apparent that a particular species of wildlife performs a crucial service to mankind. There are perhaps many forms of wildlife which will not play a role in our survival on the planet. The question is, can we admire the butterfly simply for her beauty, taking as a matter of faith that she has a purpose for being? If that is enough for you to begin your journey using this wildlife viewing guide, then those of us who prepared the guide can have the faith that you will move to more complex observations which will cause us all, in the end, to protect all wildlife though its critical purpose is not revealed."
---
Read and add comments about this page
---
Go back to previous page. Go to Atlanta's Urban Wildlife contents page. Go to Sherpa Guides home.
---
[ Previous Topic | Next Topic ]