Islamorada
[Fig. 4] It takes a degree of confidence to profess to be the "Sport-fishing Capital of the World," but Islamorada's claim to the title would be hard to dispute. A perennial mecca for anglers since the early part of the twentieth century, it draws those who have always dreamed of casting a fly to a ghostly bonefish, or of leaning back in a fighting chair, hooked one-on-one to a leaping sailfish.
The sight of a fishing guide poling a small skiff slowly along a backcountry flat is a common one; as is the silver flash of a 100-pound tarpon rocketing out of the water with a thrashing, lure-tossing shake of its head. No wonder famous sportsmen like Ernest Hemingway, Zane Grey, and Harry Truman, who could choose to fish anywhere, chose Islamorada.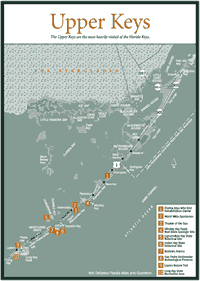 Waiting to greet arriving anglers is an army of experienced fishing guides and charter boat captains, a selection of accommodations and world-class resorts, unparalleled choices of fishing opportunities, and one of the most beautiful settings in all of the Keys.
Sixteenth-century Spanish explorers were so enthralled by the purple sunset haze hanging over the beaches that they called the area Islas Moradas, which means Purple Isles. The Islamorada area (MM 90 through MM 77) includes Plantation Key, Windley Key, Upper Matecumbe Key, Lower Matecumbe Key, and Long Key. The town of Islamorada, one of the largest in the Keys with 8,287 residents, is located on Upper Matecumbe Key.
Traveling south from Key Largo to Islamorada, you cross the first series of 42 bridges connecting the Florida Keys. This is where the beauty of the islands becomes evident from the highway. Unless you've taken one of the boat trips out of Key Largo, this may be your first glimpse of the multihued waters that surround the islands.
The waters of the Keys come in a stunning variety of shades of blue and green extending as wide, uneven bands out from the shoreline. A change in depth means a change in color. From light pastels in the shallowest water, through a series of blues and greens, to the dark royal blue depths offshore, there are more colors than in a giant box of crayons—powder blue, sky blue, lime green, aqua marine, steel blue, and azure.
Many of the bridges have an area at either end where you can pull off and park. These are some of the nicest places to stop just to stretch and take in a little of the feel of the Keys; smell the salt air and feel the heavy moisture on your skin. You can usually walk down to a seawall by the water, or in some cases out onto portions of the old bridges.
Most of the highway bridges in use today throughout the Keys are second generation. The first highway bridges, which were built across Flagler's original railroad tresses, have been abandoned, destroyed, or in some cases turned into fishing piers and bicycle trails. These are great places to watch the sunset! And in a few minutes you won't even hear the cars whizzing by on the other bridge.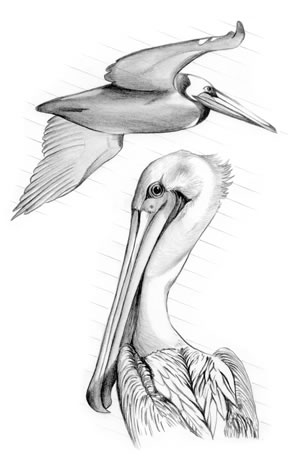 Like many of the Keys, the islands of Islamorada have a storied past. Calusa Indians, pirates, wreckers, and treasure hunters have called these islands home (or hideout).
The most historically significant event in modern times, however, was the killer hurricane of 1935. The monstrous storm struck with winds over 200 miles per hour, driving a 17-foot tidal wave across the islands and killing hundreds of residents and laborers working for the Florida East Coast Railroad. A late-arriving evacuation train sent from Miami was washed off the tracks. A mass grave of hurricane victims is marked by the Islamorada Hurricane Monument at MM 81.5.
Islamorada's tourism-catering core is on Upper Matecumbe Key, where the Overseas Highway is elbow-to-elbow on both sides with resort hotels, motels, shell shops, fast-food eateries, shopping centers, and, above all, places to latch onto a boat and a guide to head off fishing.
Outdoor centers like Holiday Isle Resort and Marina at MM 84 Oceanside and Bud n' Mary's Fishing Marina at MM 79.8 Oceanside, have both offshore and inshore guides available. Check in with the booking offices to find out what type of trips are available and what fish are in season. Holiday Isle Resort and Marina, 84001 Overseas Highway, Islamorada, FL 33036. Web site www.theisle.com. Phone (800) 327-7070 or (305) 664-2321. For information on Bud n' Mary's Fishing Marina.
Bud n' Mary's is the place with the giant plastic white shark hanging in front. As you drive through the Keys, you'll see all types of giant plastic and concrete creatures—lobsters, crabs, sailfish, and dolphins to name a few. They go well with manatee, whale, and red snapper mail boxes you'll see along the highway.
A remarkably long list of major game fish can be caught year-round from waters surrounding Islamorada—including marlin, kingfish, wahoo, shark, barracuda, blackfin tuna, dolphin, sailfish, snapper, grouper, bonefish, redfish, snook, tarpon, and permit. Catching a "grand slam"—a permit, tarpon, and bonefish all on the same day—is a once-in-a-lifetime thrill sought by many dedicated anglers. Catching even one of these common yet incredibly elusive species sometimes takes years.
Shallow-water guides fish in the Florida Bay backcountry for snook, redfish, seatrout, and tarpon. Standing on a high platform mounted over the engine they pole their clients along in the clear water, pointing out fish with casting directions like "redfish, three o'clock" or "tarpon moving left to right, one o'clock, 20 yards."
Other times they'll ease the boat silently along a mangrove-covered shoreline while clients cast plugs or flies next to the tangled prop roots, tricking snook and redfish into giving up their hiding places for a chance at a meal.
The search for bonefish and permit takes place on wide sandy flats. The common approach is to leave the boat behind and stalk the game fish on foot while keeping a low profile. The guide will go with you to help spot fish in the clear water.
Offshore charter boats venture into the deep, dark-blue waters of the Atlantic Ocean. Charters usually have a maximum of six passengers. You can sometimes split charters with another small group.
Dolphin (the fish) and sailfish are the most popular targets. Dolphin fishing peaks in the summer, and sailfish fishing is best in fall and early winter, which is also a good time for catching king mackerel and blackfin tuna. Anglers even catch a couple great white sharks every year.
For the land-bound angler, many of the older Keys bridges that are no longer being used for traffic have been turned into fishing piers. A rod and reel, a minimum of fishing tackle, and some live or frozen shrimp from the nearest tackle store are all it takes to get started. Some tackle stores rent fishing tackle.
Snapper, grouper, sheepshead, and jack crevalle (Caranx hippos) are commonly caught from the bridges. On occasion, bridge anglers are surprised by a tarpon that was moving through the pass and spotted their bait. Because of their hard mouths and incredible strength, tarpon are rarely landed. Snook like to hang out around bridge structures and are caught at night on feathers, shrimp, or small live baits fished on the bottom.
Florida nonresidents are required to have saltwater fishing licenses when fishing from bridges. Charter boat and guide boat licenses cover their clients. (See Appendix E, page 297, for more information on fishing license regulations.)
For more information: Stop at the Islamorada Chamber of Commerce located in a bright red Florida East Coast Railroad caboose at MM 82.5 Bayside, PO Box 915, Islamorada, FL 33036. Web site www.florida-keys.fl.us/islamorada/index.htm. Phone (800) 322-5397 or (305) 664-4503.
World Wide Sportsman
[Fig. 4(2)] It's hardly surprising that one of the most popular attractions in the "Sport Fishing Capital of the World" would be one of the world's largest tackle stores. Then again, calling World Wide Sportsman just a fishing tackle shop is like calling Moby Dick just another whale. A regional favorite for 30 years, the store expanded to this new location in 1997. It attracts between 15,000 and 20,000 visitors a day to its cavernous, two-story, 27,000-square-foot former boat barn at MM 81.5 Bayside, on the Overseas Highway.
Those who live to fish and those who wouldn't know a fishing hook from a picture hook can enjoy wandering along aisles of fishing gear and lures of all sizes and descriptions. There's a 6,000-gallon aquarium with good-sized tarpon, bonefish, redfish, and snook; a large selection of sportswear and outdoor clothing; a fully stocked selection of fishing books; a fully staffed booking service specializing in deep-sea fishing trips around the world; and a marine art gallery. On the water, behind the store, there's a marina, seafood market, bait shop, and headquarters for charter fishing guides.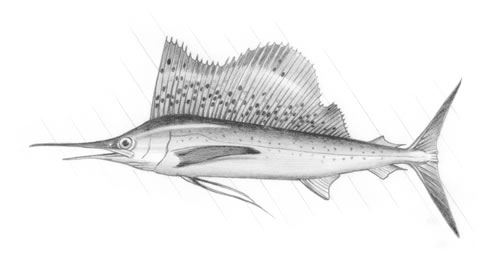 The owners have done much more than provide a place to buy fishing-related wares; they have preserved a bit of the history associated with Islamorada fishing. In the second floor Zane Grey Lounge—a reproduction of the original Long Key Fishing Lodge—you can lunch on the terrace with a magnificent view of Florida Bay with its varied shades of blue and green, decorated with a scattering of mangrove islands.
Zane Grey popularized fishing in Islamorada and was president of the Long Key Fishing Club, established in 1906. A display case in the lounge contains original tackle used by both Zane Grey and Ernest Hemingway, including handcrafted deep-sea fishing reels from as early as 1927. There are also original writings on display, along with old photos of the famous novelists standing with great catches.
The centerpiece of the store, however, is a 43-foot cabin cruiser that sits right in the middle. Built in 1933, the elegant craft has been restored to its original condition right down to the wooden fighting chair.
This cabin cruiser is an identical sister ship (built the same year in the same boat yard) to the boat, Pilar, that Ernest Hemingway used in these waters. Photos inside show Hemingway on his boat with various famous people. An old typewriter on a small table speaks for itself.
Directions: MM 81.5 Bayside on the Overseas Highway.
Activities: Shopping, dining, and browsing.
Facilities: Restaurant and bar, marina, deep-sea fishing charters.
Dates: Open daily.
Fees: None.
Closest town: Islamorada.
For more information: World Wide Sportsman, 81576 Overseas Highway, Islamorada, FL 33036. Phone (305) 664-4615 or (800) 327-2880. Web site www.worldwidesportsmantravel.com.
Theater Of The Sea
[Fig. 4(3)] Opened in the 1940s, in a quarry blasted and dug out of the fossilized coral by the Florida East Coast Railroad, Theater of the Sea is one of the world's oldest marine parks. It's easy to spot at MM 84.5 by the splendid landscaping of full-sized, leaping dolphin topiaries along the highway.
Inside you'll find a friendly, "early Florida" kind of place, where families can watch smiley-faced dolphins and sea lions jumping through hoops, leaping for fish and beach balls, and giving spectators sitting too close to the pool some good-natured splashes. With advance reservations, you can participate in a structured swim with the dolphins, sea lions, or stingrays, be a trainer for a day, or take a boat cruise.
Directions: MM 84.5 Oceanside on the Overseas Highway.
Activities: Dolphin and sea lion performances, marine animal encounters, guided marine life show, bottomless boat rides.
Facilities: Covered seating to view shows, snack bars.
Dates: Open daily, year-round.
Fees: There is a charge for admission and dolphin encounters.
Closest town: Islamorada.
For more information: Theater of the Sea, PO Box 407, Islamorada, FL 33036. Phone (305) 664-2431.
Windley Key Fossil Reef State Geological Site
[Fig. 4(4)] At 18.5 feet above sea level, Windley Key is one of the highest in the chain of islands. Formed of Key Largo Limestone, the key was created from coral reef formations during the Sangamon interglacial period about 125,000 years ago. About 25,000 years later, when the Pamlico Sea subsided during the Wisconsin ice age, the reef was exposed to form the Florida Keys. Calusa Indian tribes inhabited the area centuries before the first European explorers arrived. Their shell middens and other remains can be found in the northern boundary of Windley Key's Quarry Tract.
Before the early 1900s, Windley Key was called the Umbrella Key. Its elevation made it a practical place for Henry Flagler's construction crews to quarry fill and rock for the railroad bed. When the railroad construction was finished in 1912, fossilized coral rock, called keystone, was quarried from this site for the decorative exteriors of public buildings and wealthy estates in Florida and elsewhere. Islamorada's memorial to the 1935 hurricane victims was also fashioned from Windley Key's polished fossilized coral.
Commercial quarrying continued through the 1960s. Environmentalists and concerned Keys citizens, with support from scientists and geology buffs who study the fossilized coral, eventually prompted the State of Florida to purchase the site in 1985 and save the important resource from proposed development. Windley Key Fossil Reef State Geological Site was created in 1989.
Five interlocking trails take you around three former quarries, and through tropical hardwood hammocks and wetlands.
Flagler Quarry Trail, approximately 948 feet long, is an easy introductory walk through a thick hardwood hammock above the quarry. Signatures of ancient microorganisms can be seen on the fossilized coral walls. Rare, and quite impressive mahogany, joe-wood (Jacquinia keyensis), torchwood (Amyris elemifera), and white ironwood trees (Hypelate trifoliata) can be seen. Black ironwood, known for its very hard and heavy wood, is a small tree with gray bark, light green leaves, black fruit, and white flowers.
Quarry Station Trail, about 525 feet long, branches away from Flagler Quarry Trail and passes the quarry station area, where the railroad spur line brought fresh water to the area and carried the quarried stone away.
Quarry Walls Walk, around 340 feet long, gives visitors a rare opportunity to stand inside a fossilized coral reef that died tens of thousands of years ago.
Sunset Trail, approximately 1,650 feet long, traverses the high hammock, wetlands, salt marsh, and mangrove ecosystem and concludes with a view of Florida Bay.
Hammock Trail, 2,682 feet long, offers views of contrasting environments: rare and endangered palms and cacti, a high tropical hammock, and wetlands and their connecting transitional areas.
Directions: MM 85.5 Bayside on the Overseas Highway, near Snake Creek bridge.
Activities: Hiking.
Facilities: Five hiking trails, from easy to moderately strenuous; visitor center; restrooms; and self-guided tours.
Fees: There is a small fee for self-guided tours.
Dates: Open year-round, Thursday through Monday. Contact the number below for hours of operation.
Closest town: Islamorada.
For more information: Long Key State Parks, PO Box 1052, Islamorada, FL 33036. Phone (305) 664-2540.
Islamorada Lodging
Bud N' Mary's Fishing Marina And Dive Center
MM 79.5 Oceanside, Islamorada. As the name suggests, Bud n' Mary's is the place to park your boat or rent one, or to arrange a backcountry or deep-sea fishing trip, a snorkeling and diving adventure, a sight-seeing cruise, or even a trip to Indian Key State Historic Site and Lignumvitae State Botanical Site. It's also the place if you want to sleep a few yards from all those activities or to enjoy a private beach. Six motel units (one above the tackle shop) have kitchenettes, phone, and TV. Moderate. Phone (305) 664-2461 or (800) 742-7945. Fax (305) 664-5592. Web site www.budnmarys.com.
Cheeca Lodge
MM 82 Oceanside, Islamorada. Opened in 1946 and continuously modernized and upgraded, Cheeca Lodge is among the Keys' classiest acts. It fronts 1,000 feet on the Atlantic and has 27 acres of gardens, 203 large rooms and suites, and the usual array of deluxe resort recreation, dining, and entertainment options. The lodge boasts the longest fishing pier in the Keys, and is also the home of the George Bush/Cheeca Lodge Bonefish Tournament, which raises money for charities and conservation causes. There's also a saltwater lagoon full of native fish and perfect for kids that want to learn to use a mask and snorkel, and Camp Cheeca, an environmental awareness program for kids ages 6 to 12. Expensive. Phone (800) 327-2888 or (305) 664-465. Fax (305) 664-2893. Web site www.cheeca.com.
Coral Bay Resort
MM 75.5 Bayside, Islamorada. Former North Carolinians Selby and Michele Blair welcome families with children, couples, retirees, and other guests seeking a quiet, well-run destination set well back from the highway. Modern, attractively furnished motel-type rooms and efficiencies with kitchens are close to a freshwater pool, private bayside beach, marina and boat ramp, and tidal saltwater pool with fish and lobsters. Moderate to expensive. Phone (305) 664-5568. Web site www.thefloridakeys.com/coralbay.
Fiesta Key Koa Campground
MM 70 Bayside, Long Key. This is an upscale campground, with 300 full-service RV sites on a 28-acre island. Many sites face the Gulf of Mexico. Amenities include a boat ramp and marina, a restaurant and bar, hot tubs, a swimming pool, a convenience store, and 24-hour gated security. Fishing boats, kayaks, and bikes are available for rent. Inexpensive. Phone (305) 664-4922.
Islamorada Dining
Manny & Isa's Kitchen
MM 81.6 Oceanside, Overseas Highway, Islamorada. This is one of those places that have become a part of the fabric of the Keys. Without a recommendation, you probably won't be tempted to stop, and you might not even see it set back off the road next to the Hurricane Monument. Everything served here is wonderful, especially Cuban palomilla steak, picadillo, ropa vieja with black beans and rice, broiled and fried fish, and lobster. There are also steaks, hamburgers, and sandwiches. If you have only one slice of Key lime pie while you're in the Keys, have it here. Manny grows his limes in the orchard behind the restaurant, squeezes them himself, and makes the pies every morning. You can take along a whole one to enjoy down the road. Open for lunch and dinner. Closed Tuesday. Inexpensive to moderate. Phone (305) 664-5019.
The Green Turtle Inn
MM 81.5 Oceanside, Islamorada. The restaurant got its name in the 1940s, when saltwater green turtle soup and steaks processed at a cannery across the road were the house specialties. Since the government banned the harvesting of green sea turtles in the 1970s, the Green Turtle gets its supply from freshwater, farm-raised turtles. If you don't care for the restaurant's namesake, the menu also includes fish, shrimp, lobster, and steaks. Smiling photos of celebrities past and present cover the wooden walls. A piano player helps keep everybody happy. Closed on Mondays. Moderate. Phone (305) 664-9031.
Papa Joe's Restaurant And Marina
MM 80, Islamorada. A Keys landmark for many years, Papa's packs them in for lunch and dinner in an old Keys ambience of worn wooden floors, cypress walls, friendly servers, and good food. The menu includes fish served a myriad of ways, Italian dishes, and steaks. Behind the restaurant, the walk-up bar, overlooking the marina, is a convivial place to enjoy a refreshment, watch the sunset, and meet some of the local personalities. While you're here, you can arrange a backcountry fishing trip or rent a boat. Moderate. Phone (305) 664-8109 or 664-8756. Marina phone (305) 664-5005.
Squid Row Restaurant
MM 82 Oceanside, Islamorada. The award for the least appetizing name for a Key's restaurant could go to Squid Row, but the fine food and fabulous bouillabaisse found inside is undeniably most appetizing. Homemade soups, dressings, and desserts make choices difficult. Try the yellowtail snapper meuniere, which is dipped in flour, egg-wash, and flour again before it's lightly sautéed and served with citrus butter. They also serve fish and chicken in a Saint Croix style, which is rolled in Japanese bread crumbs, sautéed, and served with black pepper and citrus butter. Moderate. Phone (305) 664-9865.
Uncle's Restaurant
MM 80 Oceanside, Islamorada. Uncle's serves a full selection of excellent Keys seafood plus a number of Italian specialties, wild game including venison and quail, and "Heart Healthy" meals. Patio dining. Open Monday through Saturday for dinner. Moderate. Phone (305) 664-4402.
Lignumvitae Key State Botanical Site
[Fig. 4(5)] Lignumvitae Key State Botanical Site preserves one of the last of the virgin tropical forests that once covered much of the Upper Keys. The 280-acre island was formed thousands of years ago as a living coral reef. When the sea level dropped the top of the reef was exposed, forming an island of fossilized coral rock.
Through subsequent eons, storm tides deposited seaweed, driftwood, and organic detritus on the bare rock. The material decayed and formed small pockets of soil in the coral rock depressions. Seeds from tropical islands floated ashore or were carried by the winds or in the digestive tracts of migrating birds. The seeds sprouted and plants began to grow, dropping leaves, producing flowers and seeds, maturing, dying, and decaying. As more centuries passed, a complex and diverse tropical hammock covered the ancient coral reef. The land was never burned or cleared for farming or to flush wildlife from their habitats.
John James Audubon visited the island in 1832. From 1919 to 1953, the island was owned by the family of Miami pioneer W. J. Matheson, who cleared a site for their limestone house. A cistern filled by rain falling from the roof supplied drinking water, and a windmill furnished power. They also put in an airstrip, bulldozed a trail, and brought in ducks, geese, peafowl, goats, burros, and Galapagos Island tortoises. An unwanted guest, the Key Largo wood rat, either swam to the island or hitched a ride in on boats bringing supplies.
The State of Florida purchased the island and neighboring Indian Key and Shell Key in 1971. At 16.5 feet above sea level, it's one of the Keys' highest islands. Twice a day, Thursday through Monday, state park rangers conduct tours of the forest and Matheson house, which contains nature artifacts. Parts of the tombstone of Indian Key pioneer Jacob Housman and six cannons from the British frigate HMS Winchester, grounded on Carysfort Reef in 1695, are on the grounds by the house.
On your boat ride to the key watch for terns, gulls, double-crested cormorants, brown pelicans, and osprey. Great white herons are often seen on the flats near the islands.
While on Lignumvitae, look for a variety of butterflies, migratory warblers in the spring and fall, and white-crowned pigeons. Look for the pigeons in the tops of the trees. They are in the Keys year-round but can be hard to find during cold winter days. There have also been sightings of black-whiskered vireos and mangrove cuckoos on the island. The best time to see both is mid-May when the vireos are nesting and the cuckoos are calling.
The island is named for the lignum vitae tree (Guaiacum sanctum), the so-called "tree of life." Its wood is so extremely dense and the resin so thick and oily, it's impervious to pests and destructive organisms, and it can outlast steel, bronze, and other materials. Columbus took some of the trees back to Europe from the Caribbean.
The wood is still used for wooden propeller shaft bearings. Some residents of the Bahamas and other Caribbean islands claim it has curative powers. In the spring, the trees produce blue flowers and yellow seed pods. Botanists say that zealous collecting and a decline in major hurricanes that scatter the seeds and promote reproduction are important reasons why slow-growing lignum vitae trees are now on the endangered list.
All of the island's exotic animals and most of the strange plants have vanished on their own. The Key Largo wood rat, now on the endangered species list, mysteriously disappeared after about two decades.
The tropical forest includes some 132 other varieties of trees and plants. When it comes to wood density, the champion is the black ironwood, at 95 pounds per cubic foot. Gumbo-limbos are easily recognizable tropical trees. They have a thin, reddish-brown bark that peels in paperlike sheets from the twisted trunks. Gumbo-limbos are also nicknamed "sunburned tourist trees," "naked Indian trees," and "living fence post trees" because when cut into sections and stuck in the ground they grow back rapidly.
Interestingly, they frequently grow alongside poisonwood trees and are believed to be an antidote for the virulent rash caused by contact with the poisonwood leaves and sap. (Park rangers and others who frequent poisonwood habitats prefer more modern, FDA-approved medications). The gumbo-limbo's light wood, similar to balsa, was once used to make bobbers and corks for fishing lines.
Before commercial waterproofing products were developed, the thick gumbo-limbo sap was used to protect the bottom of boats. Wildlife entrepreneurs in the nineteenth century had a more specialized use for the gummy gumbo-limbo sap: They used it to snare songbirds, which were sold as entertainment.
The sweet fruits of sapodilla (Sideroxylon tenax) and pigeon plum trees are favorites of the island's raccoons. Park rangers say the raccoons sometimes become so intoxicated by the heavy sugar they fall right out of the trees. Raccoons and birds also feed on Florida tree snails, which are found in large numbers on the island. A tea brewed from the black stopper tree is an old reliable cure for diarrhea. The common white stopper (Eugenia axillaris) has a skunklike aroma that is hard to miss.
The island also has remains of an Indian burial mound and a coral rock wall 0.5 mile long and 4 feet high, possibly built by Calusas or earlier inhabitants. Black and red mangroves are massed along the eastern shorelines by the dock.
Directions: In Florida Bay, 1.5 miles northeast of Lower Matecumbe Key. Arrange boat transportation or rent a boat from Robbie's Marina, MM 77.5, phone (305) 664-9814, or Bud n' Mary's Fishing Marina and Dive Center, MM 79.5, phone (305) 664-2461 or (800) 742-7945. For those who bring their own small boat, there is a public boat ramp on Indian Key Fill at MM 78.5 Bayside. Look for the sign for Indian Key Fill as you are headed south.
Activities: Guided tours of a virgin tropical hammock and early 1900s house two or three times a day at designated times. Reservations are not required but are suggested during season. No unescorted exploration is permitted. Visitors should wear comfortable walking shoes, long pants, and a long-sleeve shirt, and bring insect repellent.
Facilities: Historic 1919 four-bedroom home, nature trail, restrooms. Most facilities aren't accessible to the disabled.
Dates: Open Thursday through Monday.
Fees: There is a charge for boat transportation and a small fee for the tour.
Closest town: Islamorada is about 2 miles north on the Overseas Highway.
For more information: Lignumvitae Key State Botanical Site, PO Box 1052, Islamorada, FL 33036. Phone (305) 664-2540.
Indian Key State Historic Site
[Fig. 4(6)] Prophetically, it seems, sixteenth-century Spanish explorers called Indian Key Matanzas, or slaughter, after a historically unsubstantiated massacre of shipwrecked French sailors by Calusa Indians. Legend has it that on moonlit nights you can encounter the spirits of French sailors, Spanish soldiers, hanged pirates, and victims of an 1840s Indian battle that wiped out the Keys' most thriving community.
The 11-acre island, separated from Lower Matecumbe Key and the Overseas Highway by open water, scarcely seems like a place that played an important role in early Florida history. But it did. Archaeological excavations suggest aboriginals lived on the island as far back as 1200 B.C. They were succeeded by Calusas, who lived here until about the mid-to-late 1700s. Next came Seminole Indians, who were pursued into the Everglades and the Keys by the United States government.
When the Spanish began exploring the Keys in the early 1500s, they discovered that the Straits of Florida and the Gulf Stream were a convenient route for treasure ships returning home from Central and South America. But this quick route was hardly a safe one. Calusa, English, and Bahamian pirates plundered ships wrecked by hurricanes and shallow coral reefs.
The United States' acquisition of Florida in 1819 put the pirates out of business and initiated the legalized business of "wrecking." Wrecking was a licensed business intended to rescue passengers and salvage cargoes that ran aground on reefs and sandbars. Under the law, wreckers were entitled to a percentage of everything they salvaged.
Nevertheless, many shipwrecked captains claimed the wreckers were no more than licensed pirates who deliberately lured their ships to destruction. Some stories hold that wreckers intentionally set fires in certain places on the islands during bad weather to trick ships into entering dangerous waters.
In 1830, New Yorker Jacob Housman purchased Indian Key and set about turning it into a town that would rival Key West as the center of the shipping industry. He also hoped to break the Key West monopoly on the wrecking business, and make himself the wealthiest, most powerful man in the Keys.
To assure his independence from the courts in Key West's Monroe County, in 1836 Housman pressed Florida's territorial legislature to create Dade County (now Metro Miami) with Indian Key as its seat and himself as its majordomo. (The New World Dictionary defines majordomo as, "a man in charge of a great, royal or noble household.") He offered settlers something scarce in the rest of the Keys—fresh water on nearby Matecumbe Key—and to accommodate them he created a prosperous small town.
Around a spacious central square and wide, hard-packed streets, he built homes for 40 to 50 permanent inhabitants, a general store, a hotel with a bowling alley, a bar and a ballroom, a saloon, cisterns, a post office, wharves, and warehouses to store goods salvaged from wrecking. John James Audubon was a guest of the hotel. Topsoil was shipped in and sown with tropical trees and plants.
In 1838, Dr. Henry Perrine, a physician with a scholarly and very practical interest in tropical plants, moved to the island to cultivate agave, a sisal hemp plant with a tough, durable fiber used in the manufacture of rope and canvas. He also introduced tea, coffee, mangoes, bananas, and scores of other plants to the Keys and South Florida.
During the Seminole War of the mid-1830s, Housman's wealthy island empire became increasingly threatened by Indians who were at war with the United States over forced removal policies. Fears were realized on the morning of August 7, 1840, when a large, armed force of Seminoles attacked, burned, and looted the island. Dr. Perrine and many others were killed, but Housman and his wife managed to escape. Housman never returned to Indian Key, but instead went to Key West and in 1841 was killed in an accident while working on a wrecking ship.
Small populations of farmers, boat builders, and smugglers lived on Indian Key through the early 1900s. The state purchased it and Lignumvitae and Shell Key in 1970 and a year later it became Indian Key State Historic Site.
Guided and self-guided tours lead to interpretive markers by the foundations of the hotel, warehouse, hospital, dwellings, and Housman's empty burial site. His remains and most of his tombstone were destroyed by plunderers in the early 1900s. Parts of the tombstone are on Lignumvitae Key.
Of more interest to naturalists are the wild-growing agave and other tropical plants that Dr. Perrine cultivated. A grove of umbrella-like tamarind trees (Lysiloma lastisilquum) is a cool, shady place to stop and contemplate the little island's turbulent history. Beside the grove is an observation tower where you can get a comprehensive overview.
Directions: In the ocean, 0.75 mile southeast of the north shore of Lower Matecumbe Key. Arrange boat transportation or rent a boat at Robbie's Marina, MM 77.5, phone (305) 664-9814, or Bud n' Mary's Fishing Marina and Dive Center, MM 79.5, phone (305) 664-2461 or (800) 742-7945. For those who bring their own small boat, canoe, or kayak there is a boat ramp on Indian Key Fill at MM 78.5 Bayside. Look for the sign for Indian Key Fill as you are headed south.
Activities: Guided and self-guided tours of 1830s historic site and natural and exotic trees and plants. Park rangers lead scheduled guided tours. Call for reservations.
Facilities: Boat dock, observation tower, open-sided shelter, walking trail, remains of 1830s town. No restrooms or picnic areas. Most facilities aren't accessible to the disabled.
Dates: Open daily sunrise to sunset. The guided tours are held Thursday through Monday at designated times.
Fees: There is a small charge for ranger tours.
Closest town: Islamorada is 1.5 miles north.
For more information: Indian Key State Historic Site, PO Box 1052, Islamorada, FL 33036. Phone (305) 664-2540.
Robbie's Marina
[Fig. 4(7)] Located at Lignumvitae Bridge, Lower Matecumbe Key, Robbie's is one of the departure points for Lignumvitae and Indian Key. Practically under the bridge, Robbie's packages the raffish old Keys spirit in a cluttered shop and wooden dock and offers some of the best entertainment you can get for a few bucks. It's a boat rental, charter fishing, and Keys touring center, but just about anybody will tell you the main attraction is the huge tarpon that hang around the dock.
For a small fee, you can walk onto Robbie's 90-foot dock and look down in the dark green water at a hundred or more silver kings weighing—if you could ever get them on a scale—from 10 to 150 pounds. You can also purchase a bucket of herring and sardines to toss into the feeding frenzy. Don't try to hand-feed the tarpon. Their sandpapery mouths can give you a nasty rasp and strip your watch and jewelry like a rapacious gang of thieves.
Annie Reckwerdt, who co-owns the place with her husband Michael, calls it, "My own little aquarium." Tarpon first became a fixture and feature attraction in the early 1980s, when Michael's parents, Robbie and Mona Reckwerdt, ran the dock and a small restaurant. One morning a small, injured tarpon showed up for the food scraps they tossed off the end of the dock.
The fish had facial lacerations, so they called him Scarface, and put him in a holding tank where he could safely recuperate. When he regained his health, Scarface became a pampered pet around the dock. Fed by handouts from fishermen and tourists, he grew and grew and must have put out the word to his fellow tarpon. They came and stayed after the 150-pound Scarface went back to sea and never returned.
Directions: MM 77.5.
For more information: Robbie's Marina, Islamorada, FL 33036. Phone (305) 664-9814.
The Hungry Tarpon
MM 77.5, Islamorada. The Hungry Tarpon is situated right next to Robbie's. Built in the 1940s, the old-timey diner, with counter stools and a few tables, is done up to an old Keys "T" with neon beer signs, year-round Christmas lights, and photos of proud anglers with their trophy catches. "Good Food and Lots of It," as the menu boasts, is prepared at a busy grill right in front of diners' eyes. Fishermen and others who show up as early as 6 a.m. pack in the protein for the day with the house special, Grits and Grunts: two eggs, biscuits, grits or hashbrowns, and fried fish.
"The Hungry Tarpon" is a generous plate of hashbrowns with eggs, sausage gravy, and Monterey jack cheese. Other morning specialties are breakfast burritos, huevos rancheros, and Durango eggs—three eggs with ham, scallions, Monterey jack, and ranchero sauce. Dinner favorites are a seven-rib rack of lamb, blackened hogfish, yellowfin tuna, mahimahi, and grilled Florida lobster in the shell. There is also an outstanding hamburger and shrimp salad sandwich at lunch and dinner. Lunch only Monday through Friday, lunch and dinner on weekends. Inexpensive. (305) 664-0535.
San Pedro Underwater Archaeological Preserve
[Fig. 4(8)] An underwater nature trail, opened in 1989 by the State of Florida, attracts snorkelers and divers to the remains of the San Pedro. A Spanish galleon wrecked by a hurricane, the San Pedro was part of the 1733 Spanish treasure fleet. Twenty-one galleons from the fleet were driven onto Florida's shores. The San Pedro went down in 18 feet of water a short time after leaving Havana. Some of the ballast stones have been used in John Pennekamp Coral Reef State Park's Cannon Beach snorkeling area.
Ballast stones are large rocks carried by sailing vessels to provide weight and counterbalance to empty or partially loaded vessels. The stones were discarded as needed when ships took on cargo.
Despite the history of the site, the corals, the schools of colorful tropical fish, and the crustaceans are more fascinating than the ship's remains. A scattering of ballast stones and bricks are all that remain of the 290-ton ship. Replicas of an anchor and cannons have been placed at the site by state archaeologists to enhance the feel of an eighteenth-century shipwreck.
State park rules: To protect the site, visitors are requested to tie-up to the available mooring buoys instead of using an anchor. Spearfishing, fishing, and collection of artifacts and use of metal detectors is prohibited.
Directions: Located 1.3 nautical miles offshore of Indian Key, just about due south of MM 76. GPS 24° 51´ 802 N, 080° 401´ 795 W.
Activities: Diving, snorkeling, boat trip to remains of eighteenth century Dutch-built treasure ship.
Facilities: Underwater nature trail.
Dates: Open daily year-round.
Closest town: Islamorada is about 3 miles north.
For more information: San Pedro Underwater Archaeological Preserve, PO Box 1052, Islamorada, FL 33036. Phone (305) 664-2540.
Long Key State Recreation Area
[Fig. 4(10)] Imagine sleeping with the Atlantic Ocean right outside your tent flap or RV door, the small waves gently lapping against the shore. In the morning you're greeted by the splash of a skittish mullet, or the whoosh from the wings of a great blue heron flying low along the water's edge. This perfectly located state recreation area has camping sites right on the beach and also offers picnic areas and two nice nature trails.
The Golden Orb Trail is a 1-mile loop trail with a wooden boardwalk that blends into natural paths. The trail crosses mangrove swamps and hammocks with thick forests of gumbo-limbo, West Indian mahogany, Jamaica dogwood (also known as the fish poison tree), and other tropical trees. Plaques explain the natural history. It also skirts the usually tranquil Atlantic shoreline, where egrets, herons, and other wading birds can usually be sighted, especially at low tide in the winter.
The trail is named for the golden orb spider (Nephilia clavipes). You can often see this spider's heavy webs from the boardwalk. The large red and gold female will frequently be stationed in the center of the web, on the lookout for unwary insects that fly too close. Males are small and drab and usually die of exhaustion and starvation shortly after mating.
With a rental canoe, you can cruise the tidal lagoons on the self-guided Long Key Lakes Canoe Trail. Snorkelers can see lobster, octopus, and tropical fish in the shallow waters. A creek that runs through the recreation area was named for Zane Grey. The Western novelist was once the president of the Long Key Fishing Club, which Henry Flagler opened in 1912 with Grey's encouragement. While working on his books, Grey popularized sailfish fishing and, as a dedicated conservationist, sometimes startled his companions by releasing his trophy catches.
The beach is a good place for small children because the water is so shallow. Sixty campsites are shaded by Australian pines. Thirty have RV electrical and water hookups. As in all state parks, half may be reserved no more than 60 days in advance; the rest are first-come, first-served. This is a very popular park in the winter so make reservations early.
Directions: MM 67.5 Oceanside.
Activities: Hiking, canoeing, camping, swimming, birding, and fishing.
Facilities: A short nature trail and a canoe trail, campgrounds, canoe rentals, picnic area.
Dates: Open year-round daily until sundown.
Fees: There is an admission fee and a charge for camping and canoe rentals.
Closest town: Islamorada is 14 miles north of the state park.
For more information: Long Key State Recreation Area, PO Box 776, Long Key, FL 33001. Web site www.dep.state.fl.us/parks/LongKey/longkey.html . Phone (305) 664-4815.
Layton Nature Trail
[Fig. 4(9)] Most references to this trail suggest it as a good place to stretch your legs and take a break from driving and watching the scenery slide by. But more than that, this little-known trail is another chance to walk through a thick hammock of tropical trees such as gumbo-limbo, wild coffee, torch, and pigeon plum. The state park has provided interpretive signs along the trail. The trailhead is located about 0.5 mile above the Long Key Bridge, and the trail forms a 0.5-mile loop from the highway to the Gulf of Mexico. At a casual pace you can walk it in about 20 minutes.
Directions: MM 66, near the small community of Layton.
Facilities: 0.5-mile nature trail.
Dates: Open year-round.
Fees: None.
Closest towns: Marathon and Islamorada.
Long Key Bridge
[Fig. 6(1)] Completed in 1907, the original 2.25-mile Long Key Bridge at MM 65.5 is the second longest bridge on the Overseas Highway (after the Seven Mile Bridge). It's certainly the most majestic. Flagler so admired its classical lines and arches, reminiscent of a Roman bridge or aqueduct, he used photographs of passenger trains crossing over it in advertisements touting the railroad's spirit of romance and adventure. It required 186 reinforced arches standing 35 feet high to span the distance between Long Key and Little Conch Key. The bridge's completion in the wake of difficult construction, engineering problems, and a 1906 hurricane that drowned dozens of workmen gave hope that if these challenges could be overcome, surely the railroad could be built all the way to Key West.
When the bridge was completed, Flagler converted the work camp into the Long Key Fishing Club, a resort for the wealthy who came by train and yacht drawn by the tremendous fishing opportunities. Western novelist Zane Grey was a frequent guest and for awhile served as the club's president. The building was destroyed by the 1935 hurricane that also devastated the railroad.
For 45 years or so, the picturesque arches carried the Overseas Highway across these waters where the Gulf of Mexico meets the Atlantic Ocean. The train rails were converted to guard rails, and the road was paved right on top of the old rail bed.
Replaced by the new highway bridge in 1982, the old bridge still makes a fetching photograph. Turn off the highway to the left, just before driving onto the new bridge. Walk down the embankment and gaze at the weathered old arches against the blue sky and emerald seas.