Collier-Seminole State Park
[Fig. 19, Fig. 20] The 6,430-acre preserve, on the Tamiami Trail (US 41), 17 miles southeast of Naples, is a meeting place of cypress and mangrove swamps and tropical forests. The cypress heads, salt marshes, hardwood hammocks and majestic battalions of royal palms have provided at least a resting site for more than 120 species of birds. Bottle-nosed dolphin, alligators, and endangered West Indian manatee are often seen in the park's waterways.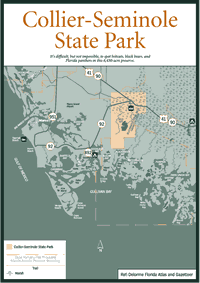 Just after passing through the entrance station, look to your right. This clumsy, Rube Goldbergian-looking piece of machinery is the Bay City Walking Dredge. It was developed in the 1920s to gouge out the Tamiami Trail between Tampa and Miami.
Visitors who hike a 6.5-mile loop trail through slash pines and scrubby pine flatwoods have a good chance of seeing many of the park's resident bird species as well as opossum, armadillo, marsh rabbit, gray squirrel, river otter, raccoon, and white-tailed deer. Much more difficult, if not all but impossible to observe, are bobcats, black bear, and the nearly extinct Florida panther. The western part of the trail normally is wet, and the eastern end is slightly more elevated and drier.
If you bring your own canoe or rent one from the park's concessionaire, you can explore the mangrove-lined tidal waterways and side creeks that wind through the park. Bring a compass and a good sense of direction—it's easy to get confused, even lost, in these crisscrossing creeks, which are subject to strong tidal currents.
The 0.9-mile Royal Palm Hammock Trail goes through white mangrove forest, salt marsh, and tropical hammocks with stands of straight, stately Florida royal palm (Roystonea regia). Maturing at 100 feet or more, with thick plumes of dark green, feathery fronds, and clusters of white flowers, the smooth-barked native of Cuba is frequently taken from swamps and marshes to line roadways and driveways.
Collier-Seminole is very popular from November through March, when cooler, drier weather keeps mosquitoes and other pests at their lowest ebb. Hot, humid summer brings out the mosquitoes in vicious black, biting clouds. Even with a heavy dousing of repellent, you can be covered from head to foot in a matter of seconds. You may want to consider a beekeeper's-style hat, with a mesh veil.
Camping is available in over 130 primitive backcountry and full-service sites. Make advance reservations, especially in winter. The park also has a boat ramp and boat basin, offering access to the Gulf of Mexico and Ten Thousand Islands. Saltwater fishing is allowed with the appropriate license. An interpretive museum, designed like a Seminole War blockhouse, has natural history and cultural displays.
Directions: US 41, 17 miles southeast of Naples.
Activities: Camping, hiking, backpacking, fishing, boating, picnicking.
Facilities: Primitive and full-service campgrounds; museum, restrooms, picnic areas; boat ramp; canoe rental.
Dates: Open year-round.
Fees: There is an admission fee.
Closest town: Naples is 17 miles north of the park entrance.
For more information: Collier-Seminole State Park, 20200 E. Tamiami Trail, Naples, FL 34114. Phone (941) 394-3397.