Flamingo
[Fig. 11, Fig. 13] Located at the very southern tip of the Florida peninsula, at the terminus of the main road, Flamingo is the perfect base camp for the entire range of activities available in the park. Wildlife viewing, canoeing, hiking, boating, camping, fishing, bicycling, guided tours, and ranger-led activities all spring from this small community.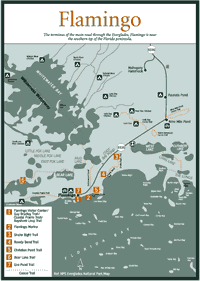 From boats to bicycles, if you didn't bring it, you can rent it. Flamingo is also the site of the only food services and overnight lodging in the park.
Much of the activity takes place around the Marina, which serves as a gateway to the water-based part of Everglades National Park. To the south is world-famous Florida Bay, with its hundreds of mysterious keys and its world-class sport fishing, which can be viewed any Saturday morning on at least one of the fishing shows. To the northwest lies Whitewater Bay, one of Florida's largest and most remote bodies of water, and beyond that the mangrove backcountry of hidden inland bays, narrow twisting creeks, and broad tidal rivers awaits the intrepid explorer.
Flamingo is also notorious for its mosquitos and no-see-ums (biting midges). Be prepared with long-sleeved shirts, and always have mosquito repellant (also known as Flamingo perfume) nearby. Aerosol and pump sprays are for sale anywhere anything is for sale in Flamingo, including the gift shop, marina, and even the lobby of the Flamingo Lodge. Bug suits and head nets can be purchased at the marina store.
The town of Flamingo was established in 1893 when its citizenry of plume hunters, renegades, fishermen, and farmers had to choose a name in order to obtain a post office. The 1910 federal census record shows 49 people living in Flamingo and Cape Sable. Most listed their profession as farming, which included growing sugar cane for the making of syrup and moonshine.
In 1915, the Roberts Hotel, located in Flamingo, had four bedrooms for guests and extra mattresses on the floor for the overflow. For dealing with mosquitos every house had an assortment of smudgepots, and a "loser" room, where a palmetto fan was used to "lose" the mosquitos before coming inside.
The only way there was by boat. Supplies were shipped in from Key West, Fort Myers, or Tampa, and cane syrup, fish, and produce were traded in return. Sometime after Royal Palm State Park was created in 1916, the Ingraham Highway reached Flamingo.
It was a rough country that required some ingenuity for survival. Consider the story about the time a proliferation of rats destroyed the cane crop. The townspeople took up a collection and one Gene Roberts, son of the hotel owner, headed for Key West where he offered 10 cents for every cat delivered to the dock.
Forty dollars poorer, and 400 cats richer, he set sail for Flamingo in his small boat. "That 90-mile trip was the worst I ever made," he is said to have stated upon reaching the Flamingo shore. The cats reportedly headed straight for the brush, never to be seen again. But the rat problem did go away.
Flamingo's current 200 residents are employees of the National Park Service and the concessioner. The settlement is composed of housing for the employees, a visitor center, a gift shop, a campground, a lodge, a restaurant, a convenience store, and a marina.
A small museum in the visitor center explains how the various habitats—mangrove forests, coastal prairies, freshwater bays, and saltwater estuaries—intertwine to create the unusual ecosystem found in the Flamingo area. Ranger-led activities available at the visitor center during peak season, from mid-December to early April, include naturalist talks, hikes, canoe trips, and campfire programs.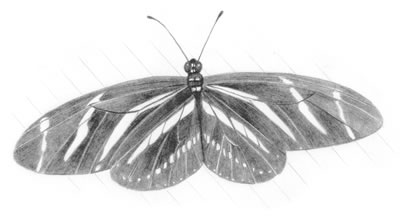 You might wish to take a moment to stop by the gift shop and see the display of Clyde Butcher photographs of the Everglades. Clyde Butcher is the preeminent Everglades photographer. His stunning black-and-white landscape photos capture the essence of South Florida wildlands.
Also note the plaque at the base of the stairs near the visitor center that once stood on Cape Sable over the grave of Guy Bradley, an Audubon Society warden, who was murdered by plume hunters in 1905. His death led directly to federal legislation banning the killing of wading birds.
According to somewhat conflicting stories, Bradley was shot while trying to apprehend plume hunters on the Oyster Key bird rookery, and his body was discovered somewhere near Flamingo. The large key in Florida Bay just to the west of Flamingo is named Bradley Key in his honor.
Flamingo's location on the shore of Florida Bay, where the Everglades meets the salt water, creates a diversity of wildlife viewing opportunities that can be found nowhere else in the park.
Birds, mammals, and reptiles that are rare elsewhere can be commonly seen in and around this small coastal community. Opportunities exist to see bald eagles, brown pelicans, bottle-nosed dolphins, great white herons, American crocodiles, American alligators, West Indian manatees, loggerhead sea turtles, black skimmers (Rynchops niger), roseate spoonbills, marsh rabbits, short-tailed hawks (Buteo brachyurus), smooth-billed ani (Crotophaga ani), and many more animals
Rare sightings can occur of flamingos, scarlet ibis, and pink ibis. The very fortunate might catch a glimpse of one of the accidental visitors. A Key West quail dove (Geotrygon chrysia), occasional bananaquits (Coereba flaveola), and even an African abdin stork (Ciconia abimii), which appeared in December of 1998, are among the oddities that have shown up in Flamingo over the years.
The marina is where exploration of much of the park begins. Located on the Buttonwood Canal near the entrance to Florida Bay, it has both a saltwater side and a freshwater side. The freshwater side leads into the Everglades backcountry by way of the Buttonwood Canal and through Whitewater Bay. The saltwater side is the starting point for boat trips into Florida Bay.
The Buttonwood Canal, begun in the 1920s and widened and finished in the 1950s, once connected Florida Bay with Coot Bay and the Everglades backcountry waters. When it finally became obvious that the daily exchange of tides was damaging the delicate brackish-water balance of the inland estuary the Park Service, in 1982, installed a concrete plug in the canal.
There are boat ramps on each side of the plug and a lift for transferring small to medium-sized boats from one side to the other. The marina is open yearround and can accommodate up to 50 boats. Boat-launching ramps are available and there are a limited number of electricity and water hookups. The marina store is the only food service available year-round.
Other marina concessions include boat tours of Florida Bay and the backcountry. Concessionaires also rent bicycles, canoes, kayaks, motorized skiffs, and houseboats for fishing and exploring the backcountry. The houseboats, available October to May, sleep up to eight people and come fully equipped.
The various boat tours provide a comfortable way to see the various habitats and generally offer excellent opportunities for wildlife viewing. Tours into the mangrove wilderness of Whitewater Bay and Coot Bay offer a good chance to see manatees, alligators, and American crocodiles, as well as a wide assortment of wading birds.
Other cruises explore the marine feeding and nursery grounds of Florida Bay, providing visitors a chance to see a mix of bird species including herons, egrets, pelicans, cormorants, ibis, ospreys, bald eagles, and black skimmers. It's also possible to encounter dolphins, sea turtles, and sharks.
Most general cruises run one and a half to two hours, and charge a moderate fee. More expensive cruises that stay out longer and carry few people are also available.
Saltwater fishing out of Flamingo can be nothing short of spectacular. Snook, tarpon, spotted seatrout, redfish, bonefish, and permit roam the flats of Florida Bay. In the winter, many of the same species, especially snook and redfish, will journey far into the backcountry where they can be wrestled out of the mangrove roots with a well-placed cast.
Simply put, it takes a boat to go fishing out of Flamingo. It doesn't have to be a big boat, even canoeists can paddle to some fine action in Florida Bay or inland to Whitewater Bay. The only shore-based fishing takes place from the beaches of Cape Sable, and it takes a boat to get there. The marina can arrange full or half-day fishing charters year-round. All charters include fishing licenses and fishing tackle.
If you're spending the night in Flamingo don't pass up a chance to take in the night sky. With the nearest city light source at least 50 miles away, it's worth the effort to drive a few miles up the road, or at least walk to the shore of Florida Bay with your back to the lights of Flamingo and behold a sight not often seen in today's society. Within moments the constellations will take shape—Orion's Belt, the Big Dipper and Little Dippers, the Pleiades, and even the Milky Way are visible.
Tent and RV camping sites are available at the Flamingo campgrounds. There are 300 walk-in and pull-through sites but they can fill up early during the busy winter season. There are centrally located bathrooms, sinks, and cold showers, but no hook-ups.
Directions: Flamingo is 38 miles from the main entrance.
Activities: Hiking, biking, canoeing, wildlife viewing, camping, boating, fishing, ranger-led activities, boat tours.
Facilities: Visitor center museum, restrooms, gift shop, convenience store and fuel, and campground.
Dates: The marina is open year-round, many other facilities and concessions are seasonal. Call for details.
Fees: Fees are charged for camping, tours, and concessions.
Closest town: Homestead is 48 miles to the north.
For more information: Everglades National Park Headquarters, 40001 State Road 9336, Homestead, FL 33034. Phone (305) 242-7700. Camping reservations can be made through the National Park Reservation Service. Phone (800) 3652267 in the U.S., (301) 7221257 outside the U.S., or (888) 5309796 with a TDD for the hearingimpaired. For current boat tour times and fees and guided fishing fees write to #1 Flamingo Lodge Highway, Flamingo, FL 33034. Web site www.flamingolodge.com Phone (941) 6953101 and ask for the activity booth. Fax (941) 6953921.
Restaurants And Lodging In Flamingo
All of the concessions in Flamingo are managed by Amfac Parks & Resorts. For more information, contact Flamingo Lodge Marina & Outpost Resort, #1 Flamingo Lodge Highway, Flamingo, Florida 33034. Web site www.flamingolodge.com Phone (800) 600-3813 or local (941) 6953101. Fax (941) 6953921.
Flamingo Lodge Restaurant And Angler's Bar: 1 Flamingo Lodge Highway, Flamingo. Overlooking Florida Bay, this restaurant has a unique competitive advantage besides the great view. It's 50 miles to the nearest alternative. Maybe for that reason the high quality of its food and service is always a little surprising, but nonetheless, always reliable.
While dining in the restaurant don't be surprised to see dolphins cavorting in the bay or pelicans diving for their own dinner. The menu features a selection of seafood, steak, chicken, vegetarian dishes, and local specialties like conch fritters. It's decorated with local original art, and open seasonally, November to April. The dress is casual and reservations are not accepted unless it's a group of six or more. The restaurant staff will also gladly cook your freshly caught fish just how you like them. Moderate. Phone (941) 6953101.
Buttonwood Patio Cafe: 1 Flamingo Lodge Highway, Flamingo. This small restaurant features pizzas, sandwiches, and salads and is open year-round, but it provides only limited food service during the winter and summer months. Inexpensive. Phone (941) 6953101.
Flamingo Lodge: 1 Flamingo Lodge Highway, Flamingo. This lodge is open year-round. It has 103 airconditioned rooms plus 24 cottages with kitchen facilities. Although it is more than 40 years old and scheduled for renovation, the facility is clean and well-kept. Many of the rooms have a view of Florida Bay and there is a swimming pool. Moderate. Phone (941) 695-3101.
Camping
The Flamingo campgrounds has 64 walk-in tent sites and 234 drive-in sites. There are no RV hook-ups. There is a dumping station and centrally located bathrooms. Camping reservations can be made through the National Park Reservation Service. Phone (800) 3652267 in the U.S., (301) 7221257 outside the U.S., or (888) 5309796 with a TDD for the hearingimpaired.