James River
[Fig. 7] The James River is the third largest tributary of the Chesapeake Bay. The watershed is huge, beginning 343 miles to the west. The mighty James starts as a trickle in Virginia's Allegheny Mountains, gains enough strength to carve a formidable gorge through the mountains of the Blue Ridge, and surges over a series of falls at Richmond, where it becomes tidal.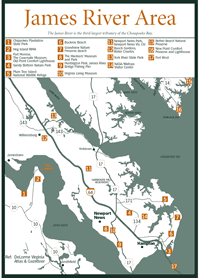 Early explorers noted that the river had paved the way west for them. They used it for transportation, dammed it for power, and built an impressive length of canal beside it in an attempt to join the east side of the Alleghenies to the Mississippi River system. Now many of the old dams are being breached or destroyed to allow anadromous fish such as shad and herring once again to follow their ancestral paths upstream to spawn. The canal system was abandoned after being damaged by war and replaced by railroads.
The James is important to Virginia's history. The first settlers came up the river, establishing their colony on Jamestown Island. Many prosperous plantations sprang up along the riverbanks and people used the river to export crops and obtain necessities. The river was deep enough for ships to go 170 miles inland, taking supplies all the way to Richmond. Military commanders have used the river to transport troops and supplies in wartime, while anglers, boaters, and sunbathers have found more peaceful ways to enjoy the river.
Noted for its healthy largemouth bass population, the lower James River has enticed the Bass Anglers Sportsman's Society (BASS) to hold the annual BASS Classic national fishing tournament on the river for an unprecedented three years.
Ragged Island Wildlife Management Area
[Fig. 6(19)] The 1,537 acres of unspoiled brackish marsh and small pine islands at Ragged Island Wildlife Management Area are open to bird watchers, hikers, fishermen, and photographers. Nothing but the James River separates the wild marshes and uplands from the busy downtown areas of Newport News and Hampton. But even though it's a neighbor to metropolitan Tidewater, Ragged Island is so teeming with life that it has been designated a Watchable Wildlife Area.On higher ground are loblolly pine forests with areas of wax myrtle understory made practically impenetrable by greenbriar tangles. White-tailed deer, raccoon, rabbit, red fox, and gray squirrel inhabit these forests. A quiet approach on foot or by boat may flush waterfowl such as black ducks, mallards, scaup, gadwall, ruddy ducks, buffleheads, and goldeneyes from a pond or creek. A boardwalk and interpretive trail financed by the Nongame Wildlife and Endangered Species Program leads over wetlands of saltmarsh cordgrass, marsh mallow, smartweed, and black needlerush where the clapper rail hides.Typical fish species of the salty lower James such as bluefish, gray trout, spot, croaker, flounder, and striped bass provide seasonal action for anglers. Across the James River Bridge from the area is a public fishing pier.
Directions: The area lies west of Newport News in Isle of Wight County on the southwestern side of the James River Bridge. It is dissected by US 17 (which is also US 258 and VA 32). There are two parking areas on the southeastern side of US 17. The interpretive trail, boardwalk, and viewing platform start on the parking lot that is closest to the river.
Activities: Wildlife observation, boating, seasonal hunting and fishing.
Facilities: Interpretive signs and trail, boardwalk, viewing platform, nearby fishing pier.
Dates: The area is open from sunrise to sunset, year-round.
Fees: None.
Closest town: Newport News is 5.7 miles across the James River.
For more information: Ragged Island Wildlife Management Area, Virginia Department of Game and Inland Fisheries, Region I, 5806 Mooretown Road, Williamsburg, VA 23118. Phone (757) 253-7072.
Chippokes Plantation State Park
[Fig. 7(1)] Chippokes Plantation, located on the James River in Surry County, has been continually farmed since 1619—longer than any other farm in America. The plantation was named for an Indian chief who was friendly to the early settlers.Chippokes Plantation State Park incorporates the plantation croplands, quiet gardens, and spacious lawns surrounding the Chippokes mansion. Tours of this restored antebellum mansion, circa 1854, are held at various times throughout the year, including the Christmas season.Paved trails are available for hikers and bikers. Two trails—the 1.3-mile (one-way) College Run Trail and the 0.9-mile (one-way) James River Trail—lead to the tidal James River from the mansion parking lot. The 1-mile (one way) Lower Chippokes Creek Trail connects the mansion with Lower Chippokes Creek, a James River tributary. The park also has a farm and forestry museum with five exhibit buildings where antique farm and forestry equipment, tools, and housewares are on display.
The new campground and cabins are especially welcome additions at Chippokes, as places to stay in Surry County are practically nonexistent. Also, the historic Jamestown Ferry (800-VA-FERRY) will transport cars and people across the James from Surry County to Jamestown, where there are abundant campgrounds and lodging Facilities. The ferry terminus at Scotland, on the Chippokes side, is on VA 31, 4 miles north of Surry and 9 miles west of the park. Four ferries, including the Pocahontas, the Williamsburg, the Surry, and the Virginia, operate 24 hours a day, year-round.
Special events highlight various facets of the park's history annually. They include Historic Garden Week in April, the Steam and Gas Engine Show in June, the Fall Crafts Festival in November, and Christmas at Chippokes in December. And in July, the very popular Pork, Peanut, and Pine Festival attracts thousands to eat pork barbecue and peanut pie, go on hay rides, shop for crafts, and check out antique farm equipment in celebration of Surry County's famous industries.
Directions: From Surry, go east on VA 10 for 2 miles. Turn left on VA 634 and go about 3.5 miles to the entrance, on the left.
Activities: Camping, hiking, biking, picnicking, swimming, canoe trips, mansion tours, museum tours, and hunting (by reservation and lottery).
Facilities: Visitor center, formal gardens, restored mansion, farm and forestry museum, rental cottages, campground, pool, snack bar, hiking/biking trails, picnic shelters, two gift shops.
Dates: The grounds are open from 8 a.m. to dusk daily, year-round. Call for hours of mansion, museum, tours, and pool, which may vary.
Fees: There are Fees for parking, for touring mansion and museum, and for cabins and campgrounds.
Closest town: Surry is about 5.5 miles west.
For more information: Chippokes State Park, 695 Chippokes Park Road, Surry, VA 23883. Phone (757) 294-3625. Farm and Forestry Museum, phone (757) 294-3439.
Hog Island Wildlife Management Area
[Fig. 7(2)] This state wildlife management area is a 3,908-acre mix of pine forests, tidal marshes, managed ponds, planted fields, and flat, open land on a peninsula formed by a giant horseshoe bend in the tidal James. The area lies across the James River from Williamsburg along VA 650, beginning about 3 miles north of VA 10, between the towns of Smithfield and Surry.The largest of the three tracts of land that make up the area is the Hog Island tract, located on the peninsula's tip. Nine parking areas line the road in the Hog Island Tract, where there are two wildlife viewing platforms and areas designated for fishing. The pine uplands of the Carlisle tract and the marshlands of the Stewart Tract are on the southeastern side of the peninsula. A boat ramp is at the far (eastern) end of the access road into the Carlisle tract. On the other side of Lawnes Creek from the boat ramp is the Stewart tract.Bow fishing for carp is a popular springtime activity, and channel and blue catfish provide good eating during much of the year. Other Activities include carefully controlled waterfowl hunts in addition to boating and seasonal hunting for deer, dove, quail, squirrel, rabbit, and turkey. Bird watchers may also see eagles and a wide variety of shorebirds.
Directions: From Surry, go about 7 miles southeast on VA 10. Turn left on VA 617 and go a little over 1 mile. Go left on VA 650 and drive about 2.5 miles to the access road to the Carlisle and Stewart tracts (on the right) or 4.5 miles to the Hog Island tract.
Activities: Seasonal hunting and fishing, boating, bird-watching.
Facilities: Two wildlife viewing platforms, boat ramp.
Dates: The area is open from dawn to dusk, year-round.
Fees: None.
Closest town: Surry is about 13 miles southwest of the Hog Island tract.
For more information: Virginia Department of Game and Inland Fisheries, Region I Office, 5806 Mooretown Road, Williamsburg, VA 23118. Phone (757) 253-7072.
---
Read and add comments about this page
---

Reader-Contributed Links to the Chesapeake Bay Book: