Blue Ridge Parkway
[Fig. 37, Fig. 38] The road-among-the-clouds meanders 469 scenic miles without a stop sign or billboard, following the sinewy crest of the Blue Ridge from the Shenandoah National Park in Virginia to Great Smoky Mountains National Park on the North Carolina/Tennessee state line. On its northern end, at Rockfish Gap near Waynesboro, it connects with the Skyline Drive. Skyline Drive continues north along the crest of the Blue Ridge another 105 miles, finally coming down from the heights at Front Royal in northern Virginia. The low point on the Parkway is 649 feet elevation on the James River. The highest point is at Richland Balsam in North Carolina at 6,053 feet.
In Virginia, the Parkway climbs to 3,950 feet at mile 76.5 on Apple Orchard Mountain. (This point is just south of where Rockbridge, Botetourt, and Bedford counties meet.) Although more than 2,100 feet lower than North Carolina's Parkway heights, the altitude and exposure are severe enough to stunt the wind-sculpted red oaks on the ridgeline.
Virginia Senator Harry F. Byrd was largely responsible for getting a bill through Congress authorizing Depression-era funding for the Blue Ridge Parkway. His idea was to extend Virginia's Skyline Drive southward from Waynesboro and connect Shenandoah National Park to the Great Smoky Mountains National Park.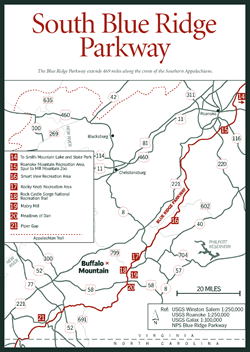 North Carolina lobbied successfully to keep the southern portion of the highway in North Carolina rather than routing it into neighboring Tennessee. Governors of states north of Virginia were approached about extending the drive northward through their states, but they were not interested. President Franklin D. Roosevelt signed the bill on June 22, 1936, and construction of the mountaintop highway got underway.
Looking at the meandering highway that follows the contour of the ridges, it's difficult to imagine the hardships faced to construct it. Steep terrain, mountainsides eroded by overuse, granite and gneiss bedrock, and extreme winter weather on the ridges presented tremendous obstacles. Skilled Italian and Spanish stonemasons were hired to build sturdy walls and bridges still in place today. The highway was finished 51 years later when the final section was completed September 11, 1987, near Grandfather Mountain, North Carolina.
The Parkway is numbered with concrete mileposts the entire length, beginning with milepost 0 at Rockfish Gap. The highway leaves Virginia at the North Carolina state boundary at mile 216.9. The speed limit on the Parkway is 45 miles per hour and is strictly enforced. Roadside parking is permitted wherever there is room to pull 6 to 12 feet off the pavement.
Visitor centers, gasoline, food, lodging, picnicking, hiking, and fishing are available along the highway. Campgrounds, picnic areas, and lodges are open May 1 through October with limited facilities available in winter. Sections of the Parkway are often closed by snow and ice.
The National Park Service, which administers a narrow corridor of land that contains the Blue Ridge Parkway, leases farmland along the road in many places to private individuals. National forest lands lie outside this corridor for some 100 miles between the Parkway's northern terminus at Rockfish Gap to just north of Roanoke.
North of the James, the Pedlar Ranger District of the George Washington National Forest, interspersed with private tracts, keeps the Parkway company. South of the James, it's the Glenwood Ranger District of the Jefferson National Forest. Many side trips to waterfalls, interpretive hikes, lakes, campgrounds, and picnic areas are available for travelers. (See Pedlar Ranger District, and Glenwood Ranger District.)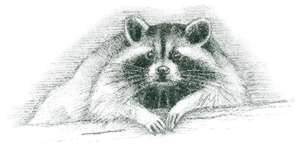 Those who drive the Parkway are treated to natural beauty composed of mountain pastures and farms, old barns, chestnut rail fences, and fields of cabbage and corn, less intruded upon by commercialization than other parkways and interstates.
But recently, the view from the Parkway has been deteriorating. Modern building materials such as vinyl and aluminum are not always as pleasing to the eye as the silos, wooden barns, and shake shingles of yesteryear. Rotting rail fences are slowly giving way to barbed wire with yellow connectors. With no cable to bring television to the mountaintop, satellite dishes spring up like weeds. Instead of being stored in rustic barns, hay bales are covered with black plastic—described by one observer as looking like giant dinosaur eggs. It's no different from changes happening elsewhere, but some feel the Parkway needs a helping hand to preserve the rustic, somnolent beauty that still brings visitors in droves.
So Parkway administrators are working with coalitions of interested citizens to protect and restore the appearance. Solutions lie in such tactics as giving tax credits to farmers who lease land along the Parkway for adhering to visual guidelines, lobbying for a share of federal funds to maintain old stone walls, and finding groups to adopt rail fences or wooden barns.
One such group is Friends of the Blue Ridge Parkway, a nonprofit, volunteer organization dedicated to preserving and protecting the highway as a national treasure. Programs focus on conservation, preservation, education, and advocacy.
In an effort to curb encroaching development, the newly organized Blue Ridge Parkway Foundation encourages people to leave money in their wills to buy land and conservation easements along the Parkway.
Also, polluted air from modern industry has gradually compromised visibility along the Parkway and the Skyline Drive. Crystal-clear days when the Alleghenies to the west are starkly outlined are now the exception instead of the rule.
Despite the gradual changes, the highway along the Blue Ridge remains a destination for travelers in Virginia and North Carolina. Spring displays of rhododendron, mountain laurel, and azalea are stunning against the hazy backdrop of blue and green peaks and valleys.
In fall, when the air is perhaps clearest, motorists flock to the Blue Ridge to see foliage that is brilliant against the blue October sky over the mountains. Dogwood, sourwood, sugar maple, and tupelo (black gum) turn deep red. Tulip poplars and hickories become bright yellow. Oaks add refinement with their more subtle bronzes, crimsons, rusts, and golds.
Along the roadsides are a variety of wildflowers and flowering trees and shrubs. Many travelers time their visits to coincide with the showiest display of all—the rhododendron bloom in June. But from the earliest spring bloomers such as shadbush (serviceberry) and redbud in April, through the dogwood, azalea, and mountain laurel bloom, there's plenty of color to make a drive or hike worthwhile.
Wildflowers such as Queen Anne's lace (Daucus carota), joe-pye-weed (Eupatorium purpureum), black cohosh (Cimicifuga racemosa), and goldenrod (Solidago) are obvious from a car window. But, as with wildflowers everywhere, some Parkway wildflowers grow close to the ground and are unremarkable until viewed up close. Their colorful common names provide helpful tips in committing them to memory.
In spring, colonies of trout lily (Erythronium americanum) produce single yellow flowers between two basal leaves with brown spots, similar to the markings on brown and brook trout. The flower's other name, dogtooth violet, refers to the fanglike shape of the underground bulb. Another low-grower is coltsfoot (Tusilago farfara). It has a yellow dandelionlike flower, but the hoofprint-shaped leaf which suggests its name is very unlike a dandelion. The scaly stem resembles that of Indian pipe (Monotropa uniflora). Pussytoes (Antennaria plantaginfolia), a cluster of small fuzzy white flowers resembling a cat's paw, are also found here.
Wildlife is abundant on the Parkway, but not as visible as along the Skyline Drive. Because the Drive passes through the Shenandoah National Park where no hunting is allowed, deer, wild turkey, and even the occasional black bear, bobcat, and fox are less shy. Groundhogs sit erect along the roadsides and chipmunks entertain campers as they scurry back and forth from burrows under logs or roots.
Grayson County, a 7-mile drive south from Galax on VA 89. To access northern end of Blue Ridge Parkway (also southern end of Skyline Drive), drive 4 miles east from Waynesboro in Augusta County on US 250 to top of Afton Mountain, turn right
after you go under interstate bridge, and follow signs.
Activities: Scenic drive, hiking, biking, picnicking, camping, fishing, interpretive programs, cross-country skiing, mountain climbing, and hanggliding.
Facilities: In Virginia, 4 campgrounds, 1 lodge, housekeeping cabins, 1 gas station, 4 visitor centers, 4 restaurants, 6 picnic areas, along with numerous tables at overlooks, 3 self-guided trails plus other hiking trails, fishing lakes, and streams. See Mileposts.
Dates: Parkway is open year-round, unless snow and ice force winter closings. Peaks of Otter Lodge is open year-round. Rocky Knob cabins are open June—Labor Day. Services and facilities elsewhere are open May 1—Oct. 31.
Fees: There is no charge for scenic drives. There is a charge for camping and lodging.
Closest town: Waynesboro, in Augusta County, is 3 miles west of northern end of Parkway. Roanoke, the largest city on the Parkway, is 2 miles west of Parkway near Milepost 222 via US 220. Galax, on border of Carroll and Grayson counties, is 7 miles north of Parkway's entrance into North Carolina. Access also available from many towns along the Parkway.
For more information: Peaks of Otter Lodge, PO Box 489, Bedford, VA 24523. Phone (800) 542-5927 or (540) 586-1081. Rocky Knob Cabins, National Park Concessions, Inc., Meadows of Dan, VA 24120. Phone (540) 593-3503. Parkway Headquarters, 400 BBT Building, Asheville, NC 28801. Phone (704) 271-4779. (See Appendix B for events and organizations related to the Blue Ridge Parkway.)
Hiking, Biking, and Fishing the Blue Ridge Parkway
Forty-five hiking trails lead from the Parkway to interesting rock formations, waterfalls, fishing lakes, rhododendron thickets, and meadows of wildflowers. Some of these are covered in more detail in Mileposts or with descriptions of the Pedlar and Glenwood ranger districts of the national forest. The Appalachian Trail roughly parallels the Parkway from mile 0 at Rockfish Gap to mile 103 north of Roanoke, although the trail and road are miles apart for much of that stretch. The AT crosses the Parkway at mile 51.5, mile 74.9, mile 76.3, mile 90.9, and mile 97. AT access is also available as it runs near the Parkway at mile 71, mile 74.7, mile 78.4, and mile 80.5 (shelter available). At mile 103, the AT takes off across the Great Valley of Virginia for the western Virginia mountains, leaving the Parkway for the remainder of the highway's southern stretch in Virginia. (Read more on the AT.)
Bicyclists are allowed to use both the Blue Ridge Parkway and the Skyline Drive, but bicycling is discouraged on the Skyline Drive. The Parkway administration has safety recommendations, a list of elevation changes on specific portions of highway, and overnight planning tips for bicyclists. Sudden changes in weather should be expected in all seasons. Elevations that range from 600 feet to 6,000 feet can be challenging, but gentle grades are the rule, and the effort is rewarded by picturesque travel across two states.
A state fishing license is required to fish streams and lakes along the Parkway. Creel limits and regulations, which vary from year to year, are available from the Virginia Department of Game and Inland Fisheries.
Important Blue Ridge Parkway Mileposts
Mile 0: Rockfish Gap. [Fig. 37(1)] Tourist Information Center, behind gas station, US 250 and I-64.
Mile 5.8: Humpback Rocks. [Fig. 37(2)] Small visitor center and self-guided trail through authentic mountain farmstead, moved from another site. Hiking trail from parking area (at mile 6.1) leads .75 mile to The Rocks, a humped outcropping visible for miles from the Shenandoah Valley below.
Mile 10.7: Ravens Roost. [Fig. 37(3)] Mountain climbers and hanggliders practice their skills from the rocky outcrops at the parking lot. Views of Torry Ridge and Shenandoah Valley to west.
Mile 16: Sherando Lake turnoff. [Fig. 37(4)] Visitor center operated by Nelson County Tourism. Recreation area in George Washington National Forest (see Pedlar Ranger District) is 4.5 miles from Parkway via VA 814.
Mile 29: Whetstone Ridge. [Fig. 37(5)] Named for a sharpening stone used by mountain people and created from fine-grained sandstone found in the ridge. Restaurant.
Mile 34.4: Yankee Horse. [Fig. 37(6)] According to stories, a Union soldier's horse fell here during the Civil War and had to be shot. See reconstructed spur of old logging railroad by taking a short walk to Wiggam Falls.
Mile 58 to 63.6: Otter Creek. [Fig. 37(7)] Runs 10 miles down the Blue Ridge to James River. Campground, restaurant, gas (mile 60.8), interpretive programs. Otter Lake (mile 63.1) offers fishing, trail. Exhibit shelter (mile 63.6) interprets James River and Kanawha Canal. There is a footbridge across James to restored canal lock and a self-guided trail from shelter along river bluff.
Mile 71: Petit Gap. [Fig. 37(8)] Derived from early settler named "Poteet." Road to west (FR 35) leads 7 miles to Cave Mountain Lake Recreation Area. Glenwood Ranger District. Swimming, picnicking, camping.
Mile 76.5: Apple Orchard Mountain. [Fig. 37(9)] Parkway climbs to 3,950 feet, its highest altitude in Virginia. Pines such as table mountain pine, pitch pine, and Virginia pine and northern tree species such as yellow birch, northern red oak, red spruce, and American mountain-ash face a harsh existence on the exposed summit.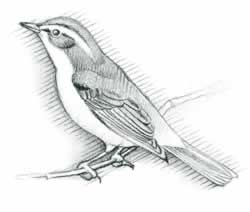 The shrubby mountain ash (Sorbus americana) has a rounded crown and feathery, pinnately compound leaves. The flat-topped clusters of white flowers produce distinctive, bright, red-orange berries by August. Squirrels, ruffed grouse, and songbirds find them more palatable than do humans. Along the ridge, note the unusual abundance of persimmon trees (Diospyros virginiana), a southern species usually associated with rich bottomlands. If the fruits are absent, the persimmon can be identified by its charcoal-colored bark, broken into small squarish blocks. Shining a light into a persimmon tree at night may reveal the reflected eyes of most any nocturnal critter. As the fleshy fruits of persimmons ripen in fall, raccoons, opossums, deer, wild turkeys, songbirds—almost all animals—find them irresistible. People also enjoy the pale orange-colored fruits when they are soft and fully ripe. However, persimmons still a bit green have an astringence that is memorable. The season's first frost is usually a signal to give them a cautious try.
Mile 78.4: Sunset Field Overlook, Apple Orchard Falls Trail, AT access. [Fig. 37(10)] Take 1.2-mile (one-way) trek to spectacular falls that drops 200 feet in series of cascades. At 1.1 miles, the trail passes a huge overhanging rock on the right—a good shelter in a storm. At 1.2 miles, add a steep extra .2 mile to view the falls from below. Turn back here or continue trail down mountain. Trail enters headwaters of North Creek, following old woods road downstream. Streamside wildflowers are abundant. At 3.4 miles is FR 59 and lower trailhead parking (see Glenwood Ranger District).
Directions: For lower trailhead, at Exit 168 on I-81, about 2 miles north of Buchanan, go 3 miles southeast on VA 614. Turn left on FR 59 and go 4.5 miles to trailhead.
Trail: 1.2-mile (one-way) hike to falls or 3.4 miles (one-way) to bottom. AT crossing is at .2 mile.
Elevation: 1,500 feet to 3,500 feet.
Degree of difficulty: Moderate, with strenuous section from falls to bottom.
Surface and blaze: Natural forest floor. Blue blaze.
Mile 79.7: Onion Mountain. [Fig. 37(11)] Short loop trail through rhododendron and mountain laurel thickets.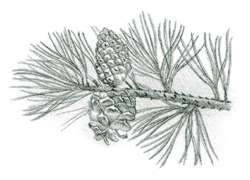 Mile 83.4: Fallingwater Cascades. [Fig. 37(12)] Visible along a steep 1.6-mile loop trail shaded by rhododendron and hemlock. Glenwood Ranger District.
Mile 84 to 87: Peaks of Otter. [Fig. 37(19)] Historic destination point for many travelers. Lodge and restaurant (mile 85.6), visitor center with exhibits (mile 86). Gasoline, campgrounds, picnic area, shuttle bus, and steep trail to scenic summit of Sharp Top (3,875 feet). Sharp Top and Flat Top (elevation, 4,001 feet) are Peaks of Otter, forming headwaters of Otter River. Fallingwater Cascades Trail and Flat Top Trail combine to make National Recreation Trail that includes a cascading mountain creek, rocky outcrops with top-of-the-world views. Shuttle (fee) to Sharp Top for those who don't want to make the short, steep climb.
Mile 112.2: Smith Mountain Lake and State Park. [Fig. 39, Fig. 37(14), Fig. 38(14)] VA 24 leads east to sprawling Smith Mountain Lake in the foothills of the Blue Ridge. To create this second-largest body of fresh water in Virginia (Buggs Island Lake is the largest), the Roanoke River was dammed in 1960 as a power source, backing up 20,000 acres of water. The state stocks muskie, walleye, and striped bass.
In addition to several private facilities around the lake, including campgrounds, restaurants, and marinas, Smith Mountain Lake State Park occupies 16 miles of shoreline on the north side. Facilities at the park include miles of hiking trails, 500-foot swimming beach, boat ramp, campground, and interpretive programs. Park interpreters teach wilderness skills, conduct twilight programs, and guide canoe trips on the lake. Call (540) 297-6066 for a brochure. To get to the park, go east 18 miles on VA 24, then south on VA 735, VA 732, and VA 626.
Mile 120.3: Roanoke Mountain Recreation Area. [Fig. 38(15)] Outstanding views from 4-mile side trip on Roanoke Mountain. Popular launch site for hang-gliders. Camping, hiking, interpretive programs.
Mile 120.4: Spur to Mill Mountain Zoo. [Fig. 38(15)] Follow signs for 3-mile side trip to small zoo with 45 species of exotic and native animals on 10-acre site. Unadvertised highlight is a garden of propagated wildflowers established by local horticultural society.
Mile 154.5: Smart View Recreation Area. [Fig. 38(16)] Picnicking, hiking. Along Smart View Trail are redbud, sassafras, pink and flame azaleas, columbine, yellow stargrass, fire pink, beard tongue, deptford pink.
Mile 167 to 174: Rocky Knob Recreation Area. [Fig. 38(17)] Rocky Knob (elevation 3,572 feet) rises from the plateau like the crest of a wave. Visitor center, spacious campground, interpretive programs, Rock Castle Gorge National Recreation Trail and other trails, picnic area, housekeeping cabins.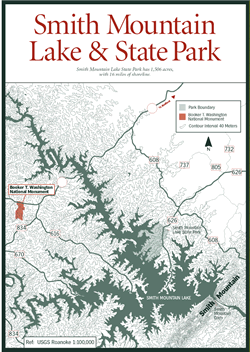 Note grove of Chinese chestnuts in campground, planted in 1952 in attempt to find species to replace American chestnut, wiped out by blight. However, the Chinese variety does not grow tall enough for timber production and does not produce as many chestnuts as the American variety.
Rock Castle Gorge National Recreation Trail. [Fig. 38(18)] The Rock Castle Gorge Trail, valued for its scenery, waterfalls, old homesites, and fishing, was designated a National Recreation Trail in 1982. The strenuous hike is a 10.6-mile loop combining scenic Blue Ridge Parkway overlooks and a climb up Rocky Knob with a trip into Rock Castle Gorge. At Rocky Knob is a log shelter constructed by the Civilian Conservation Corps in the 1930s. In the gorge, anglers wade Rock Castle Creek to try for native brook trout (single hooks, artificial lures only). Tall poplars shade a primitive campground on the creek. The name "Rock Castle" comes from quartzite crystals found in the hollows. The crystals have a six-sided shape resembling castle towers. Trailheads are at several overlooks between mile 167 and 174.
Buffalo Mountain. [Fig. 38] From The Saddle, a swale between peaks of Rocky Knob, the humped form of Buffalo Mountain can be seen rising from the plateau to the southwest. Buffalo Mountain, recently acquired by the state as a Natural Area Preserve, is one of the most significant natural areas in Virginia.
The combination of high elevation (3,971 feet), wind-exposed openings at the summit, and magnesium-rich soils make Buffalo Mountain unique. Subalpine vegetation such as three-toothed cinquefoil and Rocky Mountain woodsia grow on the windy, treeless summit.
The south face of the mountain contains grassy, prairielike openings with midwestern grasses and wildflowers such as big bluestem and blazing star. Wet seeps along the base of the mountain support globally rare grasses and wildflowers such as bog bluegrass and large-leaved grass-of-parnassus. The Buffalo is the only known location in the world for a mealybug called Puto kosztarabi. The new preserve is not yet open for public visitation.
For more information: Virginia Department of Conservation and Recreation, Division of Natural Heritage, 1500 E. Main Street, Suite 312, Richmond, VA 23219. Phone (804) 786-7951.

Mile 176.1: Mabry Mill. [Fig. 38(19)] One of the most photographed mills in the world, Mabry was operated by E. B. Mabry from 1910 to 1935. A trail leads to the gristmill, sawmill, and blacksmith shop. Old-time skills are demonstrated in summer. A restaurant and gift shop are located here.
Mile 177.7: Meadows of Dan. [Fig. 38(20)] Mountain community with restaurants, crafts, gift shops, homemade goods. Stocked and native trout fishing in scenic headwaters of Dan River and around Pinnacles of Dan to the southeast.
For more information: Virginia Department of Game and Inland Fisheries, Region II, 910 Thomas Jefferson Road, Forest, VA 24551-9223. Phone (804) 525-7522.
Mile 206.1: Piper Gap. [Fig. 38(21)] Crooked Creek Wildlife Management Area—a fee fishing area where just about anyone can catch trout—is about 5 miles west on VA 620. From mid-March through Labor Day, Crooked Creek is stocked with scrappy, flashing trout every night except Sunday. Three miles of the stream are stocked by the state fish and game department and 3 miles are left as native brook trout waters. A well-stocked concession stand sells licenses, permits, and snacks.
Mile 216.9: North Carolina/Virginia state line.
---
Read and add comments about this page
---
Reader-Contributed Links to the Virginia Mountains Book: