Rogersville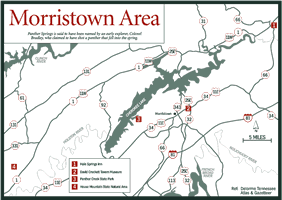 Hale Springs Inn
[Fig. 24(1)] Hale Springs Inn at Rutledge was built from 1824 through 1825 on what was then a major stage route from upper eastern Tennessee to Knoxville. Over the years the inn hosted U.S. Presidents Andrew Jackson, Andrew Johnson, and James K. Polk.
Originally called McKinney's Tavern after the man who built it, the inn became a Union headquarters during the Civil War. A few years later the name was changed to Hale Springs Hotel, and it served as a stopover for tourists going to nearby Hale Springs Resort, a famous mineral springs. The inn was fully restored in 1982 and is on the National Register of Historic Places, listed as the oldest continually run inn in Tennessee.
Directions: Downtown Rogersville on West Main Street.
Activities: Self-guided tour, restaurant, and lodging.
Facilities: Three-story inn.
Dates: Open year-round except Christmas day and night.
Fees: There is a charge for lodging but the tour is free.
Closest Town: Rogersville.
For more information: Hale Springs Inn, 110 West Main Street, Rogersville, TN 37857. Phone (423) 272-5171.
Ebbing and Flowing Springs
[Fig. 25(7)] Called Sinking Spring in a land grant given a Union officer for distinguished service, it is now known as Ebbing and Flowing Spring, one of only two known springs in the world to exhibit tidal characteristics. During a period of 2 hours and 47 minutes, the flow ranges from an indiscernible trickle to 500 gallons per minute. Unlike thermal springs that produce warm water, the water in Ebbing and Flowing Spring maintains a constant temperature of 34 degrees Fahrenheit.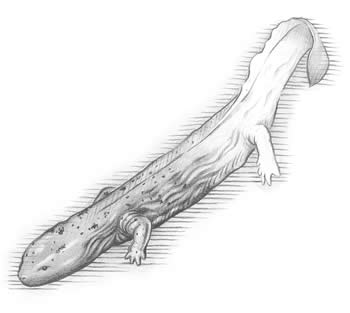 This phenomenon is not understood, but it generated much speculation. The spring was credited with having extraordinary powers in matters of the heart. Local legend claimed that any couple drinking from the spring at the peak of its flow would marry within the year. Several other springs in the vicinity were believed to possess medicinal properties.
The spring is privately owned by descendants of Thomas Amis (pronounced Amy), but is open to the public.
Directions: From Rogersville's town square, travel east 1.1 miles on Main Street to Burem Road, bearing right at Amis Historical House. Turn left on Ebbing and Flowing Spring Road and go 2.3 miles. Ruins of a stone mill are 0.1 mile on the right, and the spring is 0.4 mile beyond.
Activities: See the spring. Drink at your own risk.
Facilities: None.
Fees: None.
Dates: Open year-round.
For more information: Rogersville/Hawkins County Chamber of Commerce, 107 East Main Street, Rogersville, TN 37857. Phone (423) 272-2186.