Sgt. Alvin C. York Historic Site
[Fig. 7(17)] There have been many American military heroes throughout the nation's history, but few, if any, have remained as permanently fixed in people's minds as World War I soldier Sgt. Alvin C. York. Denied conscientious objector status, York went to war reluctantly. Under heavy enemy fire while on patrol in the Argonne Forest of France, York killed more than 20 German soldiers armed with only a Colt .45, a rifle, and his Tennessee backwoods skills. The enemy surrendered 132 men and 35 machine guns to York and the remaining six survivors in his patrol on October 18, 1918. America's most decorated World War I veteran, York was awarded more than a dozen medals, including the Congressional Medal of Honor, the nation's highest award and the Croix de Guerre, the highest award of France.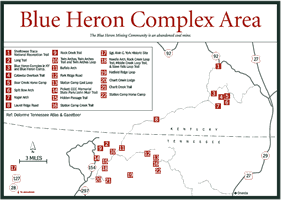 He returned to his home in the beautiful Wolf River valley at Pall Mall where he married his longtime sweetheart and lived on a 385-acre farm purchased for him with funds raised by grateful Tennesseans.
Later, a movie dramatizing his exploits starring Gary Cooper further enhanced his reputation, but he refused to take advantage of the fame he had earned and used his share of the proceeds to found an interdenominational Bible school. He remained in Pall Mall until his death in 1964. The state historic site includes the York farm and gristmill with picnic sites overlooking the Wolf River. Andrew Jackson York, one of his sons, is the park ranger at the historic site.
Directions: The farm and grist mill are located at Pall Mall, 8 miles north of Jamestown on TN 127.
Activities: Tour York's home and gristmill, picnicking, swimming.
Facilities: Swimming pool, playground.
Dates: Open daily.
Fees: None.
Closest town: Crossville, 45 miles.
For more information: Alvin York State Historic Area, General Delivery, Pall Mall, TN 38577. Phone (931) 879-6456.