Jamestown
[Fig. 8] Jamestown, the county seat of Fentress County, was built upon the site of Indian Trails, known to settlers as Sand Springs. Jamestown was home for several years to John Marshall Clemons, father of Samuel Langhorne Clemons, also known as Mark Twain. The elder Clemons was a circuit court clerk of the county and drew the plans for the first courthouse and jail, which were completed in 1828. While living here, John Clemons served as a county commissioner and attorney general. He also acquired thousands of acres of land that he thought would be the making of his family's fortune.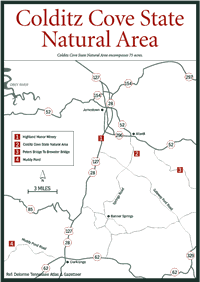 From the sequence of events, it appears undeniable that Samuel, although born in Missouri five months after the family left Tennessee, was conceived in Fentress County. The Mark Twain Spring Park down the street from the Fentress County Courthouse is named to honor this fact. The park, across from the site of the former Clemons home, contains the spring where the Clemons family got its water. The homesite is the present site of the Jamestown Post Office.
Jamestown appears in Mark Twain's writings as Obedstown in The Gilded Age. Little did John Clemons realize it would be his son's words rather than his acreage that would make the family fortune.
Directions: Take I-40 to the US 27 Exit. Go north and travel approximately 30 miles.
For more information: Jamestown/Fentress County Chamber of Commerce, POB 1294, Jamestown, TN 38556. Phone (931) 879-9948.