Frozen Head State Park and Natural Area
[Fig. 10(2)] The top of Frozen Head Mountain, at 3,324 feet, is often covered in ice and snow in winter, which gives this landmark its name. Of more than a dozen peaks varying from 1,340 feet to more than 3,000 feet, the higher peaks are the result of multiple layers of erosion-resistant rock that remained in place as adjacent parts of the plateau were worn down. The connecting ridges and interlaced valleys are further evidence of this geologic action. The park contains 14 peaks over 3,000 feet elevation, including Frozen Head, the second highest peak on the Cumberland Plateau.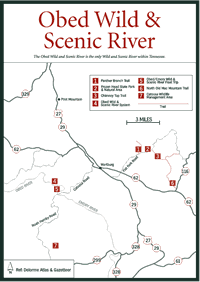 Frozen Head, formerly Morgan State Forest, has a fine trail system with more than 50 miles of trails ranging from easy to strenuous crisscrossing the 11,876-acre Frozen Head State Park and Natural Area. Although heavily logged between 1911 and 1915 and completely burned over by forest fires in 1952, it's now heavily reforested and offers scenic views and an outstanding variety of spring wildflowers. One of the most popular interpretative programs held during the year at Frozen Head is the April wildflower tour.
Trail maps and information about backcountry camping permits are available at the visitor center. There's also a primitive campground with bathhouses and restrooms but no water or electrical hookups.
Directions: Travel east of Wartburg approximately 4 miles on TN 62 to Flatfork Road. Turn left on Flatfork Road and travel 4 miles to the park.
Activities: Hiking, seasonal nature programs, and tours.
Facilities: Campsites (water, grill, fire ring, bathhouse with hot showers), primitive backcountry campsites, restrooms, picnic shelters, playground, trails, and amphitheater.
Dates: Open year-round.
Fees: There is a charge for camping.
Closest town: Wartburg, 8 miles.
For more information: Frozen Head State Park and Natural Area, Rt. 2 Box 1302, Wartburg, TN 37887. Phone (423) 346-3318
Hiking Trails
More than 50 miles of trails can be hiked in the 12,000-acre Frozen Head area. Those in the northern end of the park are maintained and most can be reached from the main trailhead near the visitor center and ranger station. Trails in the southern section haven't been maintained in recent years, so only those with map-reading skills should attempt to travel on them. A permit is required for cross-country hiking or overnight camping. Maps of the trails are available at park headquarters.
North Old Mac Mountain Trail
[Fig. 10(6)] This is one of the trails that leads to the lookout tower atop Frozen Head Mountain, which on a clear day provides a view of the Great Smoky Mountains to the east, Cumberland Mountain to the north, and the Cumberland Plateau to the west. Also within view is Cross Mountain, which at 3,534 feet is the tallest peak in the Tennessee portion of the plateau. During World War II a radar station was placed atop Cross Mountain to protect the highly secret operations at Oak Ridge from enemy aircraft. The station was abandoned in 1957.
Spring wildflowers, overlooks, yellow poplar (Liriodendron tulipifera) stands, fossils, and the lookout tower are the interesting features along the trail.
Directions: The trailhead is at the main parking lot.
Trail: 3.6 miles, one-way.
Elevation: Change, 1,800 feet.
Difficulty: Moderate.
Surface and blaze: Forest floor. Red blaze.
Panther Branch Trail
[Fig. 10(1)] This is the trail that offers the greatest variety of spring wildflowers, and it is interesting at any time of the year because of the other attractions. Features are the DeBord Falls, Flat Fork Creek, and an old railroad bed. Where Panther Branch Trail turns right after leaving the front gate, if you go straight 0.5 mile you reach Emory Gap Falls.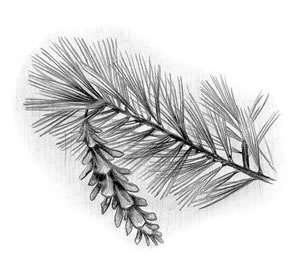 Directions: The trail starts at the front gate of the park.
Trail: 2.1 miles, one-way.
Elevation: Change, 1,000 feet.
Difficulty: Moderate.
Surface and blaze: Forest floor. Blue blaze.
Chimney Top Trail
[Fig. 10(3)] Sandstone cliffs, cap rock formations, and scenic views make this hike worthwhile.
Directions: Main trailhead at the park visitor center.
Trail: 6.9 miles, one-way.
Elevation: Change, 1,700 feet.
Difficulty: Strenuous.
Surface and blaze: Forest floor.