Fisheries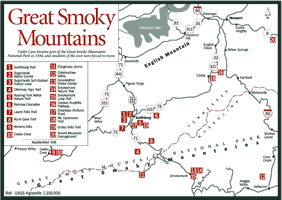 There is no place in the eastern U.S. that offers trout fishermen more opportunities than the GSMNP, because within it are well over 300 streams and rivers and more than 2,000 miles of water, 700 miles of which contain one or more species of trout.
All of this water is contained in what biologists have identified as 45 separate watersheds, with six major drainages: Little River, Little Pigeon River, Pigeon River, Oconaluftee River, Little Tennessee River, and Cades Cove.
Waterways within this broad array of streams include tiny branches that can be almost stepped across; larger, turbulent streams that hurtle down the steep slopes; gentle brooks that wind through placid meadowlands; and rivers with large volumes of water.
Some are quite remote, accessible only by lengthy treks into the backcountry, while others are just a few steps away from a paved road, so anglers have a wide variety of opportunities from which to choose.
The only trout native to the Smokies are brook trout (Salvelinus fontinalis), but extensive logging and clear-cutting destroyed much of the aquatic habitat required by brookies. Rainbow trout (Salmo gairdneri) were shipped in from western states and stocked in the hopes of restoring a fishery. Hardier than brook trout and better able to adapt to the existing conditions, rainbows thrived, and soon took over as the anglers' main quarry.
Later, brown trout (Salmo trutta) became prevalent in many Smokies waters, but these fish migrated upstream from stockings made by Tennessee and North Carolina in waters outside the park.
There is only one record of brown trout ever being introduced into Smokies streams after the park was established: a single stocking of the Oconaluftee River in 1965. Some fishermen may have no problem with exotic species, but Park Service policy requires the removal of non-natives wherever feasible.
Brook trout from northern sources were also introduced, but some biologists and local fishermen believed these fish were different from those native to the southern mountains. In the early 1990s, using genetic fingerprinting, researchers were able to prove conclusively that the northern brookies are definitely a different strain. Further testing showed there are three distinct brook trout populations present: a native strain that migrated to the Smokies long ago to escape the freezing conditions of the Wisconsin glaciation farther north, a northern strain derived from hatchery stock, and a hybrid strain.
These findings brought about a second phase of the study intended to inventory native fish throughout eastern Tennessee, including the GSMNP. Most of the streams from which the trout were collected were above 3,000 feet, remote waters that are not likely to have ever been stocked. Of 1,385 brook trout sampled, 57 percent fit the genetic profile of the southern strain, 15 percent were northern strain fish, and 28 percent were hybrids.
Shortly after these findings were revealed, the Park Service initiated the Native Brook Trout Restoration Program, aimed at identifying, restoring, monitoring, and protecting the locations where they survive. Records indicating where stockings of northern and hatchery strains of brook trout occurred in the past aided the park in finding many high-elevation streams where fish of the native strain were present. Many of these locations are closed to all fishing, and efforts are being made to remove and relocate rainbows below natural barriers to upstream migration. Waterfalls at least 8 feet high are being utilized in an effort to restore the native brookie.
For fishermen in high-elevation park streams where native brook trout live along with rainbows, the stream is open to fishing. However, brook trout must currently be released. Because the rocks in and along the streams can be slippery, and therefore hazardous, crepe-soled boots and a companion are good ideas.
Other than in the closed waters, fishing is allowed year-round, and those possessing either a Tennessee or North Carolina license can fish anywhere in the park. In Tennessee, both residents and nonresidents ages 13 and older require a license. Residents age 65 prior to March 1 of the current year are exempt. They are only required to show proof of age and of Tennessee residence.
Licenses are not available at the visitor centers and must be obtained in nearby towns. Copies of the regulations and a map showing the locations of closed waters can be obtained at park visitor centers.