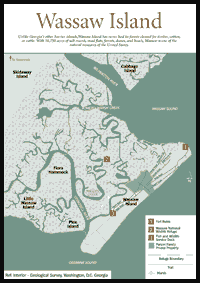 Wassaw Island
Wassaw National Wildlife Refuge
[Fig. 11] If you are looking for an unspoiled barrier island, it does not get any better than Wassaw. Unlike Georgia's other barrier islands, Wassaw Island has never had its forests cleared for timber, cotton, or cattle. Today part of the National Wildlife Refuge system, this migratory bird refuge is considered the most primitive island on the Georgia coast and is the best representation of what the barrier islands looked like before Europeans arrived. Hiking, shelling, bird-watching, nature study, and fishing are excellent activities here. Facilities are sparse, so if you intend to stay for more than 5 minutes, come prepared with bug repellant, water and food, and toilet paper.
With 10,070 acres of salt marsh, mud flats, forests, dunes, and beach, Wassaw National Wildlife Refuge is one of the natural treasures of the United States. Located southeast of the Pleistocene, older Skidaway Island, the Holocene, younger Wassaw Island has roughly 7 miles of deserted beach and 2,500 acres of beach dune and upland forest communities, roads, trails, and administrative land. The woodlands consist of lush virgin stands of oak, pine, and cedar along with magnolia, cabbage palm, and holly. Virgin forests are extremely rare not only on the coast but anywhere in Georgia. The remainder of the refuge is tidal saltwater marsh, which is excellent for fishing and where one can quickly become engulfed in its natural beauty.
As one approaches the island, it is obvious from the height and size of the pines and oaks that it is a precious reserve of wilderness on America's rapidly developing coastlines. The lack of disturbance has allowed natural climax plant communities to flourish, which in turn support a natural diversity of animal species. More than 204 bird species have been identified on Wassaw. The island is home to rookeries for egrets, herons, and other wading birds, which are abundant in the summer months. Bird watchers will appreciate the thousands of migrating songbirds that visit Wassaw in spring and fall to feast on insects, seeds, and fruits during their long journeys to and from breeding grounds. Migrant songbirds include worm-eating, black-throated blue, chestnut-sided, Cape May, Nashville, Blackburnian, and black-throated-green warblers. Waterfowl such as widgeons, mallards, and mergansers use the small freshwater ponds during fall and winter. Painted buntings (summer residents), rufous-sided towhees, and cardinals are common in the interior forests. A large variety of migratory birds use Wassaw as a sanctuary, and some unusual species have been reported, including roseate spoonbills, magnificent frigatebird, parasitic jaegers, peregrine falcons, and piping plovers. Southern bald eagles and osprey nest here, as do American oystercatchers, terns, and plovers.
Rainwater is trapped between dunes, creating freshwater pools and sloughs that support a population of 200 alligators, along with other reptiles and amphibians. In the tidal rivers behind the island, bottle-nosed dolphins are a common sight, observed gliding through the estuary as they hunt unlucky menhaden. Manatees have been tracked near Wassaw in the spring. Tracks on Wassaw's beach attest to nighttime visits by threatened loggerhead sea turtles that come ashore for egg laying then return secretively to the sea before the sun rises. Two months later, the eggs hatch and the tiny turtles scurry to the ocean. Approximately 80 loggerheads nest a year on Wassaw.
Wassaw is a very young island geologically, having formed in 400 a.d. Because of its youth, it hasn't had the time to develop the richer soils found on its older neighbor to the west, Skidaway Island. The island displays its ocean-related origin in a series of parallel dune ridges that mark the position of former shorelines. The main topographic feature of the island is a centrally located dune ridge that extends the length of the island, reaching elevations of 45 feet above sea level at the south end. The sea continues to influence the island, by eroding the north end and creating a boneyard beach of Live Oaks, and by accreting new land at the southern end.
Historically, the near-pristine Wassaw has experienced some minor impacts from human activities. Like all of Georgia's barrier islands, Native Americans used the island as a reliable hunting ground for shellfish, fish, fowl, and reptiles. The name of the island is derived from the Creek word wiso, pronounced wee´-so, meaning sassafras, a plant found on the island. Indian artifacts have been found dating back to 500-600 a.d.
The island's recorded history began in the early 1800s with Anthony Odingsell, a black planter who owned 11 slaves and Little Wassaw Island. In 1846, in an attempt to escape a cholera epidemic, 300 slaves from Liberty County were brought to Wassaw. According to records, they died and were buried on Wassaw Island, but the location of their graves is unknown. During the Civil War, the island was successively occupied by Confederate and Union troops. George Parsons, a wealthy New England businessman who wanted Wassaw as a holiday retreat for family and friends, purchased Wassaw Island in 1866. His attempts to establish quail, turkey, pheasant, and hog populations for hunting failed, but introduced populations of deer and gray squirrel thrive. (Deer hunting is allowed during periods in October and November by permit from the U.S. Wildlife Service.) Parsons built a home in the center of the island, along with 20 miles of interior roads.
During the 1960s when nearby Skidaway was undergoing development, Parsons family descendants became concerned about the future of their wild island. This started efforts to protect the island for future generations, and in 1969, The Nature Conservancy of Georgia purchased the island for $1 million from the Wassaw Island Trust, the legal entity set up by Parsons's descendants. On the open market, Wassaw Island could have sold for many millions more. The $1 million came from a private donation to The Nature Conservancy. The Parsons family retained 180 acres in the center of the island for their personal use. The Nature Conservancy, in turn, sold the island for $1 to the Federal government, which incorporated it into the Savannah Coastal Refuges system on October 20, 1969. Today, it is a national wildlife refuge [Fig. 11(2), Fig. 11(3)] managed by the U.S. Fish and Wildlife Service, which maintains a dock and small headquarters on Wassaw Creek on the southwestern side of the island. The entire Wassaw National Wildlife Refuge consists of Wassaw Island, Little Wassaw Island (Pine Island and Flora Hammock), and 20 acres of leased land on the mainland (Priest Landing). Little Wassaw has 384 acres of upland, with the remaining acreage consisting of salt marsh, marsh hammocks, and tidal creeks.
A special activity on Wassaw Island is a loggerhead sea turtle research program run by volunteers. Almost 10 percent of Georgia's nesting sea turtles crawl across the sands of Wassaw and Pine Island to lay their eggs. Endangered loggerhead sea turtles are dependent on undeveloped beach to nest and continue their species. In the last 50 years, loggerhead turtles have been sliding toward man-caused extinction due to the loss of suitable nesting habitat, among other factors. The Caretta Research Project, initiated in 1973, is aimed at learning more about the population levels and habits of loggerhead sea turtles and improving survival rates of their eggs and hatchlings.
The program is a cooperative effort between the Savannah Science Museum, the Wassaw Island Trust, and the U.S. Fish and Wildlife Service. Project volunteers, who volunteer for one week between mid-May to mid-September, are charged with observing, tagging, and recording nesting females, then relocating nests to protected hatchery sites. When the eggs hatch two months later, volunteers record the success of the baby turtles. Major predators of loggerhead nests are raccoons, ghost crabs, and feral pigs. Hatchlings fall prey to raccoons, ghost crabs, gulls and other birds, and fish. Adult turtles are killed by sharks, motor boats, and shrimp nets.
Other than the Parsons family homestead and the National Wildlife Refuge headquarters, the only other major development on the island was the construction of a Spanish-American War fort. Built in 1898 into the dunes on the north end of Wassaw, it was part of the Endicott system of coastal forts. Today, erosion has removed the dunes, and high tides now are working against the remains of the fort—a huge, slumping block of poured concrete, oyster tabby, and North Georgia granite—which probably won't see a second 100 years. Constructed by civilians supervised by U.S. Army Corps of Engineers under 24-year-old Second Lieutenant Henry Sims Morgan, this fort was part of the military buildup that produced Fort Screven on the north end of Tybee. Armed with two 4.7-inch rapid-fire guns, it was the largest single fortification built in Georgia specifically for the Spanish-American War, and it was designed to protect the southern approach to Savannah by way of the Wilmington River. Lieutenant Morgan was later assigned to help build the batteries on the north end of Tybee, where he lost his life attempting to rescue shipwrecked sailors in Tybee Roads during the hurricane of 1898. Some historians have suggested the battery be named Fort Morgan [Fig. 11(1)] in his honor. A monument dedicated to him is found in the parking lot of the Tybee Island Museum.
Directions: Wassaw National Wildlife Refuge is reachable only by boat. Novice boaters may want to charter a nature cruise from a charter service out of the marinas listed here. It can be confusing trying to navigate the various tidal rivers, so a nautical chart is a must. The closest marina to Wassaw Island is Delegal Creek Marina, phone (912) 598-0023 or Salt Water Charter, phone (912) 598-1814. Many visiting Wassaw launch from the Isle of Hope and unload at the U.S. Fish and Wildlife Service dock on Wassaw Creek on the interior of the island, then anchor in the creek. Isle of Hope Marina, 50 Bluff Drive, phone (912) 354-8187. Wassaw Island can also be approached at the northern end by boating up the Wilmington River from Hogan's Marina on Wilmington Island, phone (912) 897-3474.
Activities: Hiking, bird-watching, shelling, fishing, picnicking, nature studies, biking, kayaking. Strictly prohibited are camping, fires, pets, firearms, and collecting of plants, animals, and artifacts. Deer hunting is allowed by special permit during two periods in October and November. The island is closed on hunt days and the day before and after each hunt period. Dates and bag limits change each year. For information, contact the Savannah Coastal Refuges office at (912) 652-4415. Volunteers for the loggerhead research project should write or call Caretta Research Project, Savannah Science Museum, Inc., 4405 Paulsen Street, Savannah, GA 31405. Phone 355-6705.
Facilities: Federal dock, exhibit shelter with island map.
Dates: Open sunrise to sunset. Closed annually for deer hunts in fall and winter. Portions of beach may be closed to prevent disturbance to nesting, wintering, or migrating birds.
Fees: None.
Closest town: Skidaway Island.
For more information: U.S. Fish and Wildlife Service, Savannah Coastal Refuges, Parkway Business Center, Suite 10, 1000 Business Center Drive, Savannah, GA 31405. Phone (912) 652-4415.
---
Read and add comments about this page
---
Reader-Contributed Links to the Georgia Coast and Okefenokee Book: