Ogeechee River
[Fig. 12] This 245-mile blackwater river has many devotees who love its primitive qualities. Canoeists glide through the reflective water, exploring the meandering river swamps. Anglers set out trotlines at night, hoping for catfish but watchful of cottonmouths and alligators. Ministers wade down the river's sandy banks and baptize believers in the clean, cold waters. And yelping children swing on a tree rope, dropping into the Ogeechee's tea-stained waters on the Fourth of July.
The Ogeechee is one of the few untamed major rivers in America. Originating at 650 feet above sea level with small spring-fed creeks near Interstate 20 in Greene County, the river picks up volume as it flows south to the fall line. Leaving the Georgia Piedmont, it enters the Upper and then Lower Coastal Plain, where it picks up volume, depth, and width, with miles of adjoining river swamps buffering the river, holding back civilization and adding to its mystery. Just north of Interstate 95, it enters the tidal zone and is joined by its main tributary, the Canoochee River, where it meanders through tidal marsh until it meets the ocean at Ossabaw Sound at the coast.
The Ogeechee River basin totals 5,535 square miles and its drainage to the coast plays a significant role in forming Wassaw, Ossabaw, St. Catherines, Blackbeard, and Sapelo islands. Most rivers flow into other rivers or impoundment lakes and lose their name, or join other rivers and adopt a different name. For example, the Chattahoochee becomes the Appalachicola at the Florida border below Lake Seminole and the Altamaha is formed by the Oconee and Ocmulgee. But the Ogeechee is the Ogeechee from beginning to end, the longest river in Georgia to keep its name throughout its course.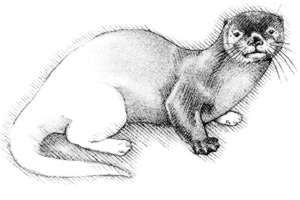 With intimate swamps and bottomland hardwoods adjoining the river, it retains a pristine quality and provides food, water, and shelter for large numbers of raccoon, deer, otter, beaver, and mink. Trees found in the wetter areas include tupelo and cypress, and the bottomlands support water oak, laurel oak, red maple, swamp blackgum, and sweet gum. The river has a namesake tree, the Ogeechee lime (Nyssa ogeche), whose bright red fruits are found floating in quiet eddies of the river during the fall. Several rare plants are also found near the river, including pitcher plants, witch-alder, needle palm, spider lily, and others. Blooming in the spring is wild azalea. The secluded river swamps are a haven to a wide variety of birds that use the river as a protected greenway, including woodpeckers, ducks, songbirds, and wading birds. Osprey and Mississippi and swallowtail kites are seen cruising the river, and a variety of owls and hawks feeds on the small mammals found in the bottomland forests. Water snakes and alligators are common in the Ogeechee River. In the lower reaches, wood storks and southern bald eagles use the river as a feeding ground, and West Indian manatees occasionally visit the river near the coast. The fish fauna of the Ogeechee, much sought after by fishermen, includes American shad, redbreast, crappie, striped bass, shellcracker, and catfish. The endangered shortnose sturgeon (Acipenser brevirostrum) breeds here. Where the river becomes salt marsh, commercial fishermen catch blue crab, and small operators throw cast nets for shrimp and baitfish.
It is believed the name Ogeechee comes from the Muskogean word meaning "River of the Yuchis," which was an Indian tribe that lived near the river.
Canoeing the Ogeechee River
There are two threats to the canoeist on the Ogeechee: first, getting trapped and swamped by deadfall, and second, getting lost in the extensive river swamps. It is advisable to check with local marinas or fish camps concerning river running conditions, and use maps and a compass for longer trips. During colder, wetter months, be prepared to get soaked as one is forced to portage around fallen trees. During high water periods, additional channels open up, misleading even the experts into dead ends. Despite these hazards, the Ogeechee is one of the best natural canoeing experiences in Georgia and worth the trouble.
Only one impoundment is found on the Ogeechee, at Ogeechee River Mill not far from the headwaters. Below this still-operating gristmill, it is a wild and untamed natural treasure. Shoally in parts of its upper reaches as it flows through the Fall Line hills in Hancock County, the river is choked with deadfall, and the river runner wishes for a chainsaw to make quick work of the frequent limbs and tree trunks. As it reaches Louisville, the state capital of Georgia from 1794–1807, it becomes friendlier to canoers, widening to 35 to 50 feet and leveling out into the serpentine, winding conditions that are more characteristic of the Ogeechee River.
Many visitors fall under the river's enchanting spell as they navigate past a lush landscape of bottomland forests of sycamore, oaks, and willow, and moss-draped swamps of sweet gum, tupelo, and cypress. Decaying vegetation and tannic acid from tree roots and bark of the adjoining swamps make the water a burgundy color and give it a highly reflective quality.
Below Millen, the river cuts through sand and clay bluffs that make popular high-and-dry campsites for boaters. The natural communities found on these sand hills are fascinating in their own right, and if one chooses to camp here, one must tread lightly. Farther downstream, the sand hills fall away, the terrain flattens, and the river widens. The woodland corridor expands, with large primeval bottomland forests and freshwater sloughs buffering the river's flow.
Below GA 24, the river continues to widen and the channel becomes better defined. North of its intersection with the Canoochee, the river becomes tidal and gradually takes on the aspects of Georgia's marshlands. Near where the Canoochee and Ogeechee meet was the site of Fort Argyle, erected on the west bank of the Ogeechee in 1733 by Gen. James Edward Oglethorpe. He garrisoned a detachment of rangers here to command one of the main passes by which enemy Indians had recently invaded South Carolina, and to give protection to the settlers of Savannah from anticipated raids by Spaniards from Florida. This area is recommended by the Georgia Ornithological Society for bird-watching (see Bird-Watching at Fort Argyle).
The best resource for canoeing and appreciating Georgia's coastal rivers is A Paddler's Guide to Southern Georgia, by Bob Sehlinger and Don Otey. This book lists access points, rates the quality of the canoeing, and describes natural features found on Georgia's rivers.
Suggested canoe trips on the Ogeechee: GA 56 at Midville to County Road 191 near Herndon, 9.1 miles. County Road 191 to US 25 at Millen, 15.7 miles. US 25 to County Road 190 near Scarboro, 11 miles. County Road 190 to County Road 57A near Rocky Ford, 6.5 miles. County Road 57A to County Road 581 near Ogeechee, 7 miles. County Road 581 to US 301 near Dover, 6.2 miles. US 301 to GA 24 near Oliver, 15.2 miles. GA 24 to GA 119 near Guyton, 23.2 miles. GA 119 to US 80 near Blitchton, 12 miles. US 80 to GA 204 (Morgan's Bridge), 11.8 miles. GA 204 to Bellaire Woods Campground, GA 204, 9.8 miles. Bellaire Woods Campground to US 17 at Kings Ferry, 5.4 miles. US 17 to GA 144 near Rabbit Hill, 7 miles. GA 144 to Spur 144 at Fort McAllister, 11.8 miles.
Fishing on the Ogeechee River
Fishing on the Ogeechee River is more than just a hobby; it's a way of life. Many freshwater fishing activities are popular on the river, from setting nets for migrating American shad to simple cane pole fishing for red breast. They occur at different times throughout the year, so it's best to study regulations regarding seasons and check with fish camps and marinas to find out what's biting. High water periods are generally less favorable for fishing because freshwater species retreat to flooded swamplands to feed.
Camping and Parks Near the Ogeechee River
Two major campgrounds are located near I-95 and the Ogeechee River. Waterway RV Campground is situated right on the Ogeechee River, with 32 RV sites, each with cement patios and picnic tables, and a full complement of amenities. A river dock and boat ramp can be used to enjoy the river, and the campground can furnish bait, tackle, and advice for upstream fishing—blue gill, red breast, bass—or downstream fishing for striped bass and other saltwater fish species. Waterway is located across from Kings Ferry Park [Fig. 5(3)] and Loves Seafood, on US 17 and the Ogeechee River on the southern bank of the river. Phone (912) 756-2296. Bellaire Woods Campground is another good choice for camping on the Ogeechee. Situated on 24 acres on the Ogeechee River, the campground has RV sites, boat ramp, showers, boat and tackle rental, canoe rental, and a full list of other amenities. Located on GA 204, 2.5 miles west off Exit 16/94 on Interstate 95. Phone (912) 748-4000.
Kings Ferry Park. This is a popular county park located on the northern side of the Ogeechee River where US 17 crosses. Visitors can picnic, swim, fish from a dock, or launch a boat at the park. Restrooms are available. Located here was King's Bridge, an important crossing point on the Ogeechee River. During the Civil War, this bridge was crossed by Union forces to attack Fort McAllister from the rear, which was located downstream. After capturing the fort, Gen. William T. Sherman's Federal forces built a wharf and depot here to resupply his 60,000 men from the sea for his siege of Savannah.
---
Read and add comments about this page
---
Reader-Contributed Links to the Georgia Coast and Okefenokee Book: