Chokoloskee Island
[Fig. 17] A 3-mile-long, low-lying causeway connects Everglades City with Chokoloskee Island. The causeway was built in 1955, but the island has a much longer history of human habitation. Beyond Chokoloskee to the south is a vast mangrove forest protected by Everglades National Park.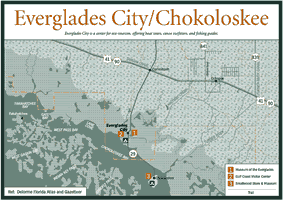 A quiet island of roughly 150 acres and a couple hundred residents, Chokoloskee is actually a large shell mound, owing its 20-foot elevation, the highest point of land around, to the work of the Calusa Indians. During the hurricane of 1910, residents on the island who survived by moving to the only piece of land remaining above water gained a true understanding of why the Indians built their mounds so high. They too knew about hurricanes and storm surges.
The island is situated at the lower end of the large, shallow Chokoloskee Bay, which lies between the mainland and the Ten Thousand Islands. The 10-mile-long, 2-mile-wide bay doesn't have a place in it with a depth of more than 5 feet. Sometimes billed as the Snook Capital of the World, Chokoloskee serves as a convenient entrance to the Everglades backcountry for modern day explorers and serious anglers.
Fishing patterns are the same as Everglades City's. Snook, tarpon, redfish, and seatrout are popular and plentiful. Fishing guides are available that will take you to the seldom explored parts of the backcountry. Most guides can accommodate, and in fact welcome, fly-fishing enthusiasts.
Like any pioneer town on the edge of a wilderness, Chokoloskee Island has seen its share of characters—including Totch Brown. A native of Chokoloskee, Totch became a legend for his success as an alligator poacher, smuggler, and story teller, and for his honesty in describing his past. His tales, which are available in his and Peter Matthiessen's book, Totch: A Life in the Everglades and on video, Tales of the Everglades: Totch Brown's Life in the 10,000 Islands, add a fabric of realism to the twentieth century history of the island. Both are available at the Smallwood Store and Outdoor Resorts.
Another far less scrutable character who has almost grown to mythical proportions is the notorious Ed Watson, a hot-tempered, quick-to-violence pioneer, who ran a farming and produce shipping operation from an island on the Chatham River south of Chokoloskee. In 1910 Watson, who was suspected of multiple murders, was killed by the townspeople of Chokoloskee. It's a story that's been told and retold in magazines and books, and most recently in a historical-fiction format in Peter Matthiessen's novel The Killing of Mr. Watson.
Chokoloskee today is a quiet town of commercial fishermen, fishing guides, and a slowly increasing number of seasonal residents. A pair of well-run resort operations blend in with the small community.
But you can still touch the island's history. You can visit the Smallwood Store and see the dock where Watson was shot, or journey into the Everglades backcountry to see where he lived. You can hear the tales of Totch Brown and stop to visit with his nephew, Kenny Brown, at Outdoor Resorts at the base of the causeway. Like Ted Smallwood and Totch Brown, Kenny Brown embodies a living knowledge of the island's short, but vibrant history.
Directions: Chokoloskee Island is 7 miles south of US 41 on SR 29.
Activities: Fishing, boating, backcountry camping.
Facilities: Lodging, campgrounds.
Dates: Activity is seasonal. June, July, and August are the slowest months.
Closest town: Everglades City is 3 miles north.
For more information: Everglades Area Chamber of Commerce at the corner of US 41 and SR 29, PO Box 130, Everglades City, FL 34139. Phone (941) 695-3941. Web site

[email protected]

.
Smallwood Store And Museum
[Fig. 17(3)] The most historic building on Chokoloskee Island is the Ted Smallwood Store. It was built in 1906 by Charles Sherod "Ted" Smallwood, one of the early pioneers in Collier County. The building served as store, post office, and Indian trading post. Smallwood remained the area's postmaster until his retirement in 1941, and in the meantime became a part of the history of the island.
The store has been maintained, and in some cases restored to its early days. Walking inside is like walking into an old picture. An array of antiques from the early part of the century surrounds a life-sized mannequin of Ted Smallwood, sitting in a rocker just like he did 60 years ago. The store sits on pilings, and if you look out the back window you'll see the spot where Ed Watson was killed in 1910. Some of Smallwood's reminiscences can be read in the book The Story of the Chokoloskee Bay Country by Charlton W. Tebeau. The store was placed on the National Register of Historic Places in 1974, and restoration of the store as a museum was started in 1990 by the nonprofit Ted Smallwood Store, Inc.
Directions: Chokoloskee Island is 7 miles south of US 41 on SR 29. Turn right on Mamie Street just after coming onto the island.
Facilities: Historic museum, exhibits.
Dates: Days and hours are seasonal.
Closest town: Everglades City is 3 miles north.
For more information: Historic Smallwood Store, PO Box 367, Chokoloskee, FL 33925. Phone (941) 695-2989.
Lodging On Chokoloskee
Most of Chokoloskee Island is covered by private residences. Public lodging and camping is limited.
Chokoloskee Island Park And Marina
PO Box 430, Chokoloskee, FL 34138. This is a camper and trailer resort with good access to the Gulf of Mexico side of the Ten Thousand Islands. Tent campers are welcome and overnight accommodations are available. Fishing guides are available. The marina has a boat ramp, dockage, and boat and motor rentals. Open year-round. Inexpensive to moderate. Phone (941) 695-2414.
Outdoor Resorts—chokoloskee Island Rv Resort And Marina
PO Box 39, Chokoloskee, FL 34138. This resort is a hub for sport fishing on the island. It has a large RV park with waterfront sites. There are overnight accommodations and condos that can be rented by the week. You can rent boats, canoes, kayaks, or hire a fishing guide. Fly-fishing lessons are even available. Talk with Kenny Brown about where the best fishing is, or about a canoe trip or fishing guide he might recommend. Inexpensive to moderate. Phone (941) 695-2881.