Stock Island
Stock Island is an unpromising gateway to Key West. Both sides of the highway are lined with gas stations, mini marts, trailer parks, fairly uninviting restaurants, and bars. There is also a jail and landfill and an unofficial Keys visitor center, where you can sign up for timeshare visits, parasailing, and other activities.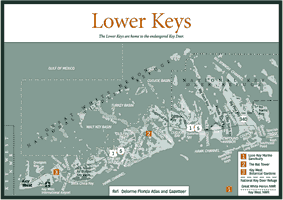 Key West Botanical Gardens
[Fig. 7(3)] The Key West Botanical Gardens is a 55-acre sanctuary, in a natural hammock, originally developed as a federally funded preserve in the 1930s. Turn right before crossing the bridge over Cow Key Channel and continue to the botanical gardens.
Partially destroyed by hurricanes and abandoned for many years, it was revived in the 1960s and 1970s by a consortium of civic groups. The tropical garden contains more than 90 species of native and imported plants. Noteworthy are national champion lignum vitae, Arjan almond, and Barringtonia trees. Some species of trees and plants are found nowhere else in the Keys.
White-crowned pigeons are frequent summer visitors and scissor-tailed flycatchers come in the winter. Gray kingbirds and black-whiskered vireos also visit the area. The garden is also home to the endangered Stock Island tree snail.
Directions: Driving south, turn left at the traffic light at College Road, pass a health club and nursing home, keep bearing right until you see the gate.
Dates: Open daily.
Fees: There is an admission charge.
For more information: Key West Botanical Garden Society, PO Box 2436, Key West, FL 33045. Phone (305) 296-1504.