Loggerhead Key
[Fig. 9] In addition to snorkeling off Fort Jefferson and Garden Island, visitors can also snorkel and dive around reefs and shipwrecks off the other small islands. Hospital Key and Long Key are closed year-round, but day visits are permitted on Loggerhead Key. Two-and-a half miles west of Garden Key, 1 mile long and nearly 30 acres, nature-blessed Loggerhead is by far the largest of the Tortugas.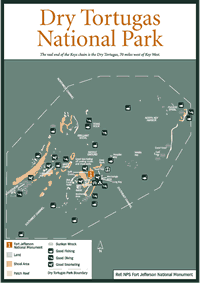 As remote as it is, Loggerhead is a prime example of the dictum "Don't mess with Mother Nature." In the midnineteenth century, its only noteworthy vegetation was a ring of bay cedar bushes and beach and dune plants such as sea oats, sea lavender, and cactus. But tall Australian pines imported for shade succeeded in shading out most of the sun-loving natives. The spreading roots of the Australian pines discourage sea turtles, which dig their nests around the island. The Park Service is trying to eliminate the stubborn, rapidly multiplying pines, but is leaving some of the trees, which can grow to 100 feet, as roosting places for hawks, osprey, and other birds.
Most visitors come for Loggerhead's excellent snorkeling and diving. A reef tract called Little Africa is a favorite destination. Marked by spar buoys off the island's west side, the reef gets its name from its Africa-like shape visible from the top of the lighthouse. The wreck of the windjammer Avanti is another fascinating place to explore. The iron-hulled sailing vessel sank in 1907 on its way from Pensacola to Montevideo, Uruguay, with a cargo of lumber. It's 1 mile southwest of Loggerhead's southwest tip.
Those who'd really like to get to know the Dry Tortugas, and take a break from real life for a month or so, can apply for the Loggerhead Key Maintenance Volunteer Program. Those accepted are housed, free of charge, in an air-conditioned, one-bedroom, two-story brick house. It's anything but a desert island vacation, however. In return, they're required to stay a minimum of 30 full days and put in at least 32 hours a week of volunteer work that includes cleaning grounds and beaches, transferring fuel, changing generators, mowing and trimming lawns, burning trash, and doing plumbing, carpentry, electrical, and other maintenance and mechanical work. Apply to Dry Tortugas National Park, PO Box 6208, Key West, FL 33041.
The island has no visitor facilities. The 150-foot Loggerhead Lighthouse, first lighted in July 1858 to guide ships away from the reefs, is off-limits to visitors. The island's dock is also reserved for park employees. Visitors are required to anchor offshore and come onto the beach in small boats.
Directions: 72.5 miles west of Key West. Accessible by boat.
Activities: Swimming, snorkeling, bird-watching.
Facilities: None.
Dates: Open daily sunrise to sunset.
Closest town: Key West, 72.5 miles over open water.
For more information: Dry Tortugas National Park, PO Box 6208, Key West, FL 33041. Phone (305) 242-7700. Web site www.nps.gov/drto