Chesapeake Bay > Head of the Chesapeake Bay
Head of the Chesapeake Bay
Travelers who breeze across the head of the Chesapeake Bay on I-95 between Baltimore and Philadelphia may be oblivious to the rich natural and historical resources just minutes off the highway along the way. Five major rivers, two counties, and several historic towns are full of possibilities.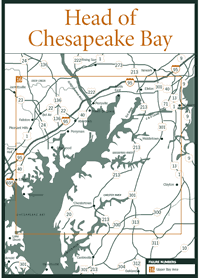 The five rivers that form the head of the Chesapeake Bay converge at Turkey Point on Cecil County's Elk Neck. From west to east, they are the Susquehanna, the North East, the Elk, the Bohemia, and the Sassafras. The surge of fresh water into the upper bay provides prime spawning grounds for anadromous fish—fish such as striped bass (rockfish), white perch, herring, and shad that return from the salty sea in spring to spawn in fresh water.
The two counties of the upper Chesapeake—Harford and Cecil—are known for their quiet nature, picturesque harbors, historic bed and breakfast inns, and waterfront restaurants. Here are remote places where a person can cast a lure, watch a heron, listen to a chorus of marsh frogs, or just sit on the edge of a pier and feel the lap of waves on bare feet.
Positioned at the head of the Chesapeake Bay are two information centers for travelers on I-95. Maryland House Information Center (410-272-0176) is in Harford County between Exits 80 and 85, west of Aberdeen. Chesapeake House Information Center (410-287-2313) is in Cecil County between Exits 93 and 100, between Perryville and North East.
---
Read and add comments about this page
---

Reader-Contributed Links to the Chesapeake Bay Book: