Baltimore
Since its founding, Baltimore has been intimately tied to the Chesapeake Bay. Mills located at the fall lines of many bay tributaries near the city and the natural harbor on the Patapsco River combined to help establish Baltimore as a valued port early in its history. Today, Baltimore is the 15th largest city in the U. S. and it ranks fifth among the nation's ports.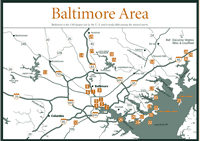 Following the urban flight that many cities experienced during the 1950s and 1960s as people abandoned downtown areas and moved to surrounding counties, Baltimore's downtown retail district suffered. Shops stood abandoned. Warehouses were torn down. Piers and wharves deteriorated. However, an inspired urban renewal that began in the 1970s attracted major hotels, office buildings, and bright new Facilities such as Harborplace (1980) and the National Aquarium (1981). The citizens of Baltimore are justifiably proud of the remarkable renaissance of their city.
Baltimore's many historic and cultural attractions, parks, gardens, and museums attract visitors as feeding rockfish attract seagulls. Tourists flock to the city by car, boat, plane and train. All Amtrak (800-USA-RAIL) runs between Washington, DC, and Boston, MA, stop at Baltimore's Penn Station.
There's far too much to see in a day. Better to pick and choose a few highlights and allow time to fully enjoy them. A mass transit system (410-539-5000) helps the unfamiliar negotiate the city.
One way to explore the sites of the Inner Harbor or Fells Point National Historic District while avoiding the anxiety of fighting traffic and finding parking places is to travel by water. Even water taxis are available, with boats running continually every 15 to 40 minutes depending on the season, stopping at various landings to provide access to some of Baltimore's most popular attractions. (additional cruise information.) Boat landings in the Baltimore area provide access to the multistoried National Aquarium, the Maryland Science Center, and the recently restored U. S. Frigate Constellation.
Baltimore's number one attraction, Harborplace, is an internationally acclaimed, glass-enclosed marketplace with an eclectic mix of locally owned shops, nationally known merchants, waterside cafes, kiosks, and restaurants. Across the street is The Gallery, with 75 more shops and restaurants in a vaulted six-story atrium with cascading escalators and a grand view of the harbor.
The Inner Harbor is also the location of the Baltimore Maritime Museum (410-396-3453) at Pier 4 and Pratt Street, with a three-ship exhibit that includes the lightship Chesapeake, the World War II submarine USS Torsk, and the USS Taney, the only ship still afloat that survived the bombing of Pearl Harbor.
On the 27th floor of the World Trade Center (410-837-4515) at 401 East Pratt Street is an impressive observation level with a panoramic view of Baltimore's skyline, the Inner Harbor, and in the distance, the Chesapeake Bay. A multimedia presentation depicts the city's history. This 30-story structure is the largest pentagonal building in the world.
South of Eastern Avenue on Broadway are the cobblestone streets of Fells Point Historic District (410-675-6756), one of the nation's oldest surviving maritime communities. Fells Point was the hub of the nation's shipbuilding industry during the late 1700s and early 1800s. Some 350 original structures remain, including tiny shops, galleries, pubs, and restaurants, adding their charm to this harbor neighborhood.
Among historic homes in Baltimore are the Babe Ruth Birthplace at 216 Emory Street (410-727-1539), the Evergreen House, an 1850s Italianate mansion at 4545 North Charles Street (410-516-0341), and the home of the writer and "Sage of Baltimore," H. L. Mencken at 1524 Hollins Street (410-396-3523). The Edgar Allan Poe House at 200 North Amity Street (410-396-6932) is the place where "The Master of the Macabre" wrote much of his early work.
The Star-Spangled Banner Flag House and 1812 Museum at 844 East Pratt Street (410-837-1793) was the home of Mary Pickersgill, seamstress of the 30-by-40-foot flag for Fort McHenry that inspired Francis Scott Key to write the words for The Star Spangled Banner during the War of 1812.
The Baltimore Museum of Art (410-396-7137) at North Charles and 31st streets is the state's largest art museum, housing the world-famous Cone collection, including works by Picasso, Cezanne, and Matisse. The Walters Art Gallery (410-547-ARTS) at Charles Street and Centre Street has a world-renowned collection on five floors. Included in addition to paintings are Egyptian artifacts, jeweled Faberge eggs, and medieval armor.
Baltimore is also the home of the Pimlico Race Course (410-542-9400), where the middle jewel of thoroughbred racing's Triple Crown is run. Other attractions include the The Baltimore Opera Company (410-625-1600), the Baltimore Symphony Orchestra (800-442-1198), a new interactive children's museum called Port Discovery (410-727-8120), the shops of Antique Row (410-383-2881) in the 800 block of North Howard Street, and of course, Oriole Park at Camden Yards (410-685-9800), home of the Baltimore Orioles baseball team.
Most of Baltimore's night life is concentrated in the downtown area, where the shimmering lights of the Inner Harbor add their own magic to an evening on the town. The Comedy Factory, located upstairs at Burke's Cafe (410-752-4189), draws top comedians to entertain Baltimore audiences. The restaurant and comedy club is at 36 Light Street at the intersection with Lombard Street. Reservations are required.
Sports enthusiasts and families with children will want to check out the ESPN Zone (410-685-ESPN). The new restaurant/bar/arena complex at the upper end of the Inner Harbor has a sports theme. On the second floor is a game arena that is open into the wee hours. There are batting cages, a cage for shooting basketball, and many family-oriented Activities. One popular game involves sitting in a chair and driving a simulated racecar or speed boat.
The ESPN Zone is in the Power-plant Building at 601 East Pratt Street, a renovated building that also houses the Hard Rock Cafe (410-347-7625), featuring American food, rock 'n' roll memorabilia, live entertainment, dining, and dancing.
A breathtaking view of the harbor is part of the glamorous atmosphere of the Pisces Restaurant (410-685-2835) on the top floor of the Hyatt Regency Baltimore (800-233-1234). This seafood restaurant is one of many places that offer live music on some nights. The 14-story hotel, which has an atrium and 486 rooms, is located at 300 Light Street.
Live entertainment is also a weekend attraction at Planet Hollywood (410-685-STAR) at 201 East Pratt Street, a restaurant with a movie theme.
Baltimore Guide Services and Tourist Information
[Fig. 14(1)] Baltimore Area Visitors Center, 301 East Pratt Street, Baltimore, MD 21202. Phone (410) 837-4636 or (800) 282-6632.
Baltimore Area Convention and Visitors Association, 100 Light Street, Baltimore, MD 21202. Phone (800) 343-3468 or (410) 659-7300.
Water Taxi, Harbor Boating, Inc. Hire a taxi for a relaxed visit by water to attractions of your choosing such as the National Aquarium, Harborplace, Maryland Science Center, and Fells Point. Operates Monday through Saturday. Phone (410) 563-3901 or (800) 658-8947.
Harbor Shuttle. This is the lowest-cost water transportation system of the inner harbor, with free van service to Fort McHenry. Phone (410) 675-2900.
Maryland Tours, Inc. Narrated tours Apr. through Oct. Shuttle service May through Sept. Phone (410) 685-4288.
Fort McHenry
[Fig. 14(2)] Although the Chesapeake Bay is valued for its shipping channels in times of peace, it also has permitted warships to penetrate America's coastline all the way to Baltimore. This threat by sea spurred the construction in 1803 of Fort McHenry on the tip of the peninsula defending Baltimore's outer harbor.The flag flying over the fort during the War of 1812 during a British bombardment was the inspiration for the words to The Star Spangled Banner penned by Francis Scott Key. The words were later set to music and chosen as the national anthem. A visit to the star-shaped fort (accessible by water taxi and car) will bring to life the fascinating details of the 25 hours Key spent detained aboard a British ship while some 1,500 to 1,800 bombs, rockets, and shells were fired. Key, a Maryland attorney, had boarded the vessel to obtain the release of a friend when the battle began.
Dates: Open 9 to 8 daily, late June through Labor Day, and 9 to 5 daily for the remainder of the year.
Fees: There is a charge for admission.
For more information: Phone (410) 962-4290.
The National Aquarium
[Fig. 14(3)] Even for those whose time is limited, the National Aquarium in Baltimore is a must-see. State-of-the-art habitats help visitors feel they're on the coast of Iceland or inside a misty rain forest with golden tamarins, multicolored parrots, and two-toed sloths that seem to move in slow motion. Extraordinary fish in every imaginable color poke about a realistic Atlantic coral reef in a tank that rises several stories high. Stingrays appear to move to music in the 265,000-gallon pool they share with several species of sharks and a hawksbill sea turtle.At the Marine Mammal Pavilion, Atlantic bottlenose dolphins put on daily shows. A mountains-to-the-sea exhibit, an outdoor seal pool, and an Icelandic exhibit are other highlights.
Directions: From I-95 in south Baltimore (just south of Fort McHenry Tunnel), take Exit 53/I-395 to Pratt Street. Turn right on Pratt Street. The aquarium is on the right.
Facilities: Exhibits, gift shop, cafe, restrooms, handicap access.
Dates: Open 9 to 8 daily July and Aug. Open 10 to 5 Saturday through Thursday and 10 to 8 Friday, Nov. through Feb. Open 9 to 5 Saturday through Thursday and 9 to 8 Friday, Mar. through June, Sept. and Oct.
Fees: There is a charge for admission.
For more information: National Aquarium, Pier 3/501 East Pratt Street, Baltimore, MD 21202. Phone (410) 576-3800. Ticketmaster: In Baltimore, (410) 481-SEAT; in District of Columbia, (202) 432-SEAT; in Northern Virginia, (703) 573-SEAT; out of state, (800) 551-SEAT.
Maryland Science Center and Davis Planetarium
[Fig. 14(4)] Enjoy the science center's three floors of exhibits and demonstrations, the Davis Planetarium, and the IMAX Theater. A refurbished antique telescope enables sky-watchers to observe planets, comets, and solar and lunar eclipses. The computerized telescope will turn automatically to Mars, Jupiter, or the setting of your choosing. IMAX Theaters are known for their incredible three-dimensional movies on screens that are several stories high.
Directions: Located at 601 Light Street (on the Inner Harbor).
For more information: Maryland Science Center and Davis Planetarium, phone (410) 685-5225.
U. S. Frigate Constellation
[Fig. 14(5)] After nearly three years of restoration work at the Fort McHenry shipyard, this first ship commissioned by the U. S. Navy has returned to its dock at Pier I and Pratt Street on the Inner Harbor, where visitors may stroll the decks, check out the battle stations, and discover how crewmen lived at the beginning of the Civil War. The Constellation, called the best-known artifact in Baltimore, was first launched in 1797 from Baltimore's Fells Point and served in the War of 1812.
For more information: U. S. Frigate Constellation, phone (410) 539-1797.
Baltimore Parks and Zoo
For those who like to search out green oases in a busy city, Baltimore has several that surely qualify.
Druid Hill Park. [Fig. 14(6)] Located at 2600 Madison Avenue, just north of US 1 (North Avenue), is scenic Druid Hill Park. With 744 acres, Druid Hills is the second largest urban park in America. This historical site, which Dates back to 1688, has pavilions, picnic Facilities, a playground, ball fields, tennis courts, hiking trails, and woodlands. The Baltimore Zoo is also located here.
For more information: Druid Hill Park, 2600 Madison Avenue, Baltimore, MD 21217. Phone (410) 396-6106.
Baltimore Zoo. [Fig. 14(7)] On the grounds of Druid Hill Park on Druid Avenue is Baltimore's 168-acre home to 1,500 birds, mammals, and reptiles. Extraordinary natural-looking habitats include the African watering hole, the river otter pond, and the African plains exhibit. Black-footed penguins, the 3-acre elephant exhibit, and hippopotamuses are also popular. The children's zoo, with farm animals, a swinging bridge, and a carousel, was voted the nation's finest. The Maryland Wilderness Exhibit highlights the state's native animals.
Dates: Open 10 to 4:20 daily, year-round, with hours extended in summer. Closed on major holidays.
Fees: There is a charge for admission.
For more information: Baltimore Zoo, phone (410) 366-LION.
Cylburn Arboretum. [Fig. 14(8)] North of Druid Hill Park on Greenspring Avenue is Cylburn Arboretum, where well-tended grounds provide a lovely backdrop to the oaks, magnolias, Japanese maples, and viburnums at this center for environmental education and horticulture. Nature trails and gardens add interest to the Cylburn Mansion, which now serves as home to a Nature Museum and the Maryland Ornithological Society Museum.
Dates: The museum and gift shop are open 10 to 3 Tuesdays and Thursdays, year-round.
Fees: None.
For more information: Cylburn Arboretum, phone (410) 396-0180.
Sherwood Gardens. [Fig. 14(9)] In late April, the 7 well-groomed acres of Sherwood Gardens feature the spectacular bloom of thousands of tulips. Azaleas and other spring-bloomers continue well into May.
Directions: The gardens are located in northern Baltimore at Stratford Road and Greenway, off Saint Paul Street.
Dates: Open dawn to dusk.
Fees: None.
For more information: Sherwood Gardens, phone (410) 323-7982.
Lake Roland. Located just north of the Baltimore city limits off MD 25, Lake Roland has 98 acres of bass and bluegill fishing waters.
For more information: Lake Roland, phone (410) 974-3211.
Restaurants in Baltimore
The proximity of the Chesapeake Bay is evident in the many seafood appetizers and entrees on the menus of Baltimore's restaurants.
Phillips at Light Street Pavilion. Inner Harbor, Baltimore. Children's menu, authentic Maryland seafood, award-winning crab cakes, waterfront dining, seafood buffet. Inexpensive to moderate. Phone (410) 685-6600.
O'Bryckis Crab House. 1727 East Pratt Street. Well-known crab house for half a century. Moderate to expensive. Phone (410) 732-6399.
Kisling's Tavern. 2100 Fleet Street, Fells Point/Canton. Great crab cakes. Water taxi access. Inexpensive to moderate. Phone (410) 327-KISS.
McCormick and Schmick's Seafood Restaurant. 711 Eastern Avenue. Sample the fresh seafood at this lively bistro on the Inner Harbor at Pier 5. Spectacular view of the waterfront. Full service bar. Inexpensive to moderate. Phone (410) 234-1300.
Rusty Scupper. 402 Key Highway. "The best crabs in Baltimore" is the claim of this Inner Harbor restaurant, which is accessible by water taxi. Fresh seafood and sizzling steaks are accompanied by a magnificent view of the harbor. Dine indoors or out. Inexpensive to moderate. Phone (410) 727-3678.
Bohager's Bar and Grill. 515 South Eden Street. Called "Baltimore's Best Tropical Crab Deck" by the Baltimore Sun. Entertainment nightly. Located in Fell's Point section of Baltimore, about 3 blocks from Inner Harbor. Inexpensive to moderate. Phone (410) 563-7220.
Lodging in Baltimore
Finding lodging is no problem in Baltimore. Expect to pay considerably more for lodging in the popular downtown/Inner Harbor area. Less expensive hotels and motels are on the outskirts of town or in Baltimore County, often with connections to the downtown by Light Rail (410-539-5000). Here are some of the most popular places to stay.
Days Inn Inner Harbor. 100 Hopkins Place, Baltimore. Economical motel within three blocks of the Inner Harbor and attractions. Restaurant, bar, pool. Moderate. Phone (410) 576-1000.
Deluxe Plaza Motel. 6401 Pulaski Highway, Baltimore. Within 5 miles of downtown and Inner Harbor. Inexpensive to moderate. Phone (410) 485-3600.
Omni Inn Harbor Hotel. 101 West Fayette Street, Baltimore. Twin towers with 707 rooms, excellent restaurants, pool, fitness center. Pets allowed. Moderate to expensive. Phone (410) 752-1100.
Inn at Henderson's Wharf. 1000 Fell Street. View the waterfront and stroll the courtyard garden at this historic landmark inn. Built in the 1800s, the structure once served as a tobacco warehouse for the railroad. Water taxi to Inner Harbor available. Expensive. Phone (410) 522-7777 or (800) 522-2088.
Inner Harbor Marriott. Pratt and Eutaw Streets. Views of nearby Inner Harbor and Camden Yards are available from some rooms in this elegant 10-story hotel. Features include restaurant and bar, indoor pool, sauna and exercise room. Expensive. Phone (410) 962-0202 or (800) 228-9290.
Mr. Mole B&B. 1601 Bolton Street. A four-star B&B with suites on historic Bolton Hill near symphony, Antique Row, museums, and Inner Harbor. Expensive. Phone (410) 728-1179.
---
Read and add comments about this page
---

Reader-Contributed Links to the Chesapeake Bay Book: